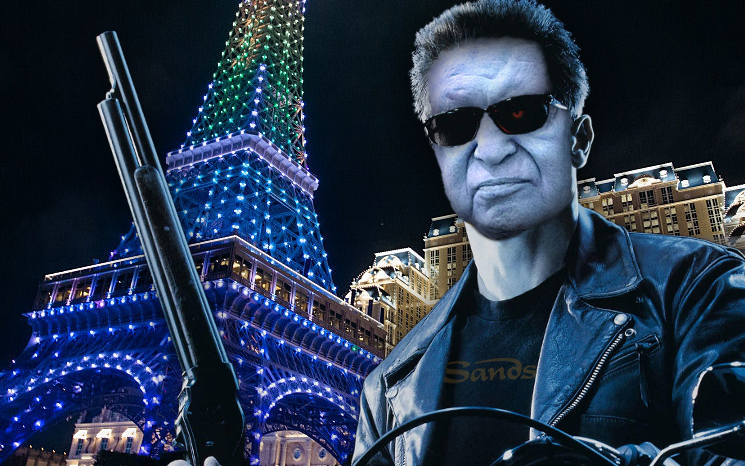 MACAU IS BACK
The Macau casino market's tentative return to growth that began in 2016 accelerated dramatically this year, with each month posting strong double-digit year-on-year growth and the full-year total is now projected to come in at least one-fifth higher than the year before.
Perhaps the most unexpected aspect of Macau's resurgence was the fact that it was driven by VIP gambling, despite Beijing's crackdown on corruption showing no signs of abating, and despite all the talk about Macau's pivot toward mass market gamblers. Even the once beleaguered junket industry is back to opening new VIP rooms.
The market was buoyed by the first full year's contribution from new casinos such as Las Vegas Sands' Parisian (pictured above, behind Sands boss Sheldon Adelson) and even the ban on proxy betting couldn't dent Macau's momentum. Some stakeholders are now projecting a return to Macau's pre-2014 revenue heights.
Ironically, the timing of Macau's resurgence could actually work against the market's six casino concessionaires. Macau is gearing up for its planned review of the concessions, the first of which are set to expire in 2020.
Had Macau's market remained in the dumps, the authorities might have felt the need to tread lightly, banking that continuity was more important that wringing blood from a stone. But with operators back to printing money, Macau is free to consider all options, including opening up the market to other operators.
JAMES PACKER'S VERY BAD YEAR
2016 ended on a sour note for Crown Resorts owner James Packer with the arrest of multiple staffers – including VP Jason O'Connor – for aggressively promoting gambling activity on the Chinese mainland.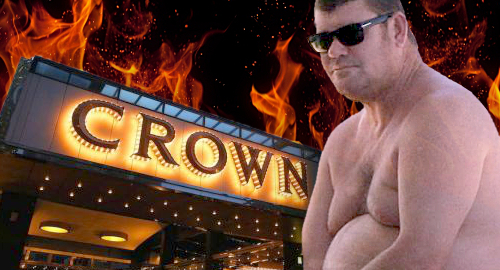 As the calendar flipped to 2017 and it became evident that China was serious about prosecuting the Crown employees, Packer accelerated his sell-off of Crown's stake in the Melco Crown Entertainment (now Melco Resorts & Entertainment) joint venture, ensuring Crown shareholders missed out on the benefits of Macau's gambling revival.
With Crown's name tarnished by the China arrests, Packer publicly withdrew his company from the race to win a coveted Japanese casino license. Packer also sold off Crown's interest in a Las Vegas casino project, and looks set to unload the Crownbet online sports betting operation.
In September, Crown began defending itself in court against allegations that its pokies were misleading gamblers as to their chances of winning. The following month, an Aussie politician set off a firestorm by repeating the allegations of former Crown Melbourne staffers regarding tampering of pokies machines and helping high-rollers avoid federal financial reporting requirements.
Packer was also forced to submit to interviews with Australian federal police at the request of Israeli authorities, who are trying to determine what (if anything) Packer received in return for the generous hospitality he's shown the family of Prime Minister Benjamin Netanyahu over the years.
Packer even found himself indirectly connected to the #MeToo sexual harassment campaign when his former Hollywood production partner, Brett Ratner, was accused of abusive behavior. In April, Packer sold his share in RatPac Entertainment, which produced that star-studded promo film for Melco Crown's Studio City resort, to Ratner.
It was Ratner who introduced Packer to singer Mariah Carey, with whom Packer reached a multimillion-dollar settlement this year after the pair broke off their engagement. Mariah got to keep the 35-carat diamond ring and, apparently, Packer's mojo.
LAWRENCE HO'S VERY GOOD YEAR
By contrast, Melco Resorts & Entertainment CEO Lawrence Ho had a remarkably positive year. Packer's selloff in Melco Crown gave Ho majority control over the rebranded joint venture, eliminating the need to share the profits from Macau's resurgence. Ho reshuffled MRE's senior management in January, and the year's positive momentum suggests the changes were the right ones.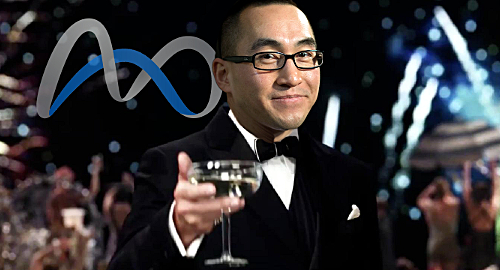 The Melco Crown/Resorts' expansion into the Philippines also hit its stride in 2017, to the point that the City of Dreams Manila property now accounts for 15% of MRE's earnings. MRE could further boost its Philippine presence next year if it wins the auction for the state-run Casino Filipino operations.
Ho's Melco International also celebrated international gains in 2017 when the company took sole control of its joint venture casino in Cyprus, which will be Europe's largest integrated resort when its first phase opens in 2019.
Ho likely scored some significant brownie points with Japanese decision makers by vowing to shift MRE's corporate HQ to Japan if MRE were to win the Japanese casino derby.
If there was one stain on Ho's 2017, it was his Russian casino Tigre de Cristal, which celebrated its second anniversary in October. The property has struggled to attract mass market gamblers, and the government's abrupt decision to dramatically hike gambling taxes was apparently the last straw, prompting Ho to sell his stake in the project as the year drew to a close.
ASSHOLES WITH GUNS
There were two mass casualty events at casinos in 2017. In the Philippines, 37 people died when a gunman stormed Resorts World Manila (RWM) casino in June. What originally appeared to be a terrorist attack turned out to be a puzzling tale of an indebted gambler who didn't appear that interested in shooting anyone.
Jessie Javier Carlos set several fires on RWM's gaming floor, and the resulting smoke and fumes ended up killing casino guests who'd taken refuge in a narrow hallway. Carlos later shot himself, preventing any further explanation of his actions.
In October, Stephen Paddock opened fire on an open-air concert from the window of his hotel room in MGM Resorts' Mandalay Bay casino. A total of 59 individuals died, including Paddock, who took his own life before security could enter his room.
Naturally, in both cases, the issue of the shooters' gambling history was prime fodder for the media, even if there was little direct connection between their gambling activity and their violent ends.
Rightly or wrongly, RWM's owner Travelers International Hotel Group and MGM were each accused of negligence in the wake of the attacks, and both markets suffered temporary dips in activity immediately following the incidents. However, both markets have since rebounded amid well-publicized improvements to security protocols, not only in the affected venues or markets, but at casinos across the globe, hopefully lessening the likelihood of such incidents going forward.
ATLANTIC CITY IS ALIVE… ALIVE!
The seaside gaming hub managed to go the whole year without closing another casino, which sounds like damning with faint praise, but when you've lost five of 12 casinos to mothballs in a short time period, you measure success differently.
The year got off on the right foot when AC announced its first annual gaming revenue gains in a decade. The surviving casinos showed they'd read their Darwin by getting far more efficient, posting double-digit profit gains despite only modest increases in revenue, and they got a wind-assist from online gambling, which now represents 10% of all monthly gaming revenue.
In March, Florida's Hard Rock International showed its faith in AC's rebirth by acquiring the shuttered Trump Taj Mahal and vowing to spend half-a-billion removing the Trump taint before reopening next summer as the music-themed Hard Rock Atlantic City.
Another mothballed property, the $2.4b white elephant that is Revel, also reportedly found a buyer late in the year, although Revel's reliably loony owner Glenn Straub continues to deny it, even after the alleged new owner – Colorado developer Bruce Deifik – went to the trouble of applying for a New Jersey casino license (something Straub refused to do).
Trouble is, AC's surviving casinos are worried that the reopening of some closed venues will upset the delicate balance that has allowed them to post those profits and restore the oversupply problems that led to AC's decade-long decline.
VIETNAM WELCOMES LOCALS IN CASINOS
After years of hemming and hawing, Vietnam's government finally approved plans for a three-year test of allowing local residents to gamble in casinos. (The government also announced a separate pilot program for legal sports betting.)
The locals ban had been cited by numerous international firms as the primary reason for their disinterest in pursuing Vietnamese casino projects. But the increasing likelihood of the government permanently bending on this issue has led to a flurry of casino project announcements.
While undoubtedly welcome news, the locals pilot program remains something of a chimera, in that none of the casinos designated to participate in the test are actually open for business. In fact, some of these casinos have yet to progress beyond the conceptual stage, and may not be ready to welcome gamblers – regardless of their nationality – for years yet.
On the plus side, if none of the specified casinos manage to open by the time the three-year trial is over, that means the potential for negative impact on Vietnamese society will be nil. So, uh, it will be considered a success?
BRITISH COLUMBIA: SO MUCH FAIL
A few years ago, the Canadian province of British Columbia dropped its pretentious official motto, 'The Best Place on Earth.' Now, if they'd added "…to Launder Money in Casinos," they'd have been on to something.
This spring, BC voters threw out the governing Liberal party after 15 years in power, and the incoming NDP government announced they'd found a year-old report detailing rampant money laundering at BC's land-based casinos. The situation was so prevalent that the laundering process was known internationally as 'the Vancouver model.'
The Liberals and the British Columbia Lottery Corporation had long been accused of ignoring shady dealings at BC casinos but the report added flesh to those bones, including tales of Asian high-rollers collecting gym bags full of $20 bills in casino parking lots, then exchanging the cash for chips without too many questions asked. The government even shut down an investigative body that asked too many questions about the shady goings-on.
The release of the report led to police actions against BC-based private lenders, while Canada's federal financial watchdog announced it was reviewing the allegations, and Great Canadian Gaming Corp – which manages the casino where most of the real shenanigans occurred – was forced into the embarrassing position of publicly declaring that it wasn't in the money laundering business.
The whole incident added significant weight to the argument that acting as both gaming regulator and operator is a recipe for corruption. Calvin Ayre has predicted that cryptocurrencies like Bitcoin Cash will eventually make regulators like BCLC redundant but their own greed and incompetence might do the job first.
IMPERIAL PACIFIC FINDS THERE IS SUCH A THING AS TOO MUCH PUBLICITY
In July, Saipan casino operator Imperial Pacific International finally transferred its shopping mall casino's gaming operations to IPI's permanent facility, despite the new joint being nowhere near completion, and despite a near-constant deluge of negative attention from international media, US law enforcement, local politicians and the company's own labor force.
After closing out 2016 denying that its VIP gambling operations were the subject of a probe by US financial watchdogs, monthly VIP turnover at IPI's temporary casino hit a staggering $5.6b in January – a greater monthly sum than that generated by virtually any casino in Macau. Related or not, a few months later IPI announced it would no longer report its monthly turnover figures.
IPI's offices were raided by US federal agents in March, in what was initially suspected of being a financial probe. Instead, the raid was linked to IPI's contractors hiring undocumented Chinese workers (and not always paying them) while dodging workplace safety rules, which may have contributed to the on-site death of a worker.
While IPI's permanent casino finally opened (dodgy sewage system notwithstanding), the company's historic aversion to unloading risk on junket operators led analysts to warn that the company could default if it couldn't collect on its staggeringly vast bad VIP debt total. In the first half of 2017 alone, IPI wrote off $266m in unrecoverable debts.
Meanwhile, Saipan politicians continued to make noise about IPI's sweetheart deal with the government, which require the company to pay business taxes and license fees but no tax whatsoever on gaming revenue. There may yet come a day in which IPI wishes it had never left the cozy confines of its shopping mall origins.
HONORABLE MENTIONS
Spain proved once again that it really isn't interested in building integrated resort casinos; Baha Mar finally opened in the Bahamas, albeit to an underwhelming response; Phil Ivey's bid to reclaim his millions in edge-sorting winnings crapped out in the UK Supreme Court; and US authorities fingered North Korea as the culprit behind 2016's Bangladeshi bank heist that so embarrassed the Philippine casino and junket industries;
Comments