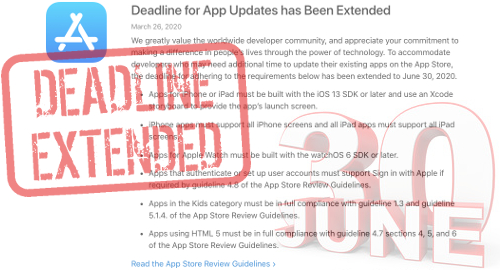 Tech giant Apple has given gambling operators more time to bring their apps into compliance, while Apple finds itself under fire for steering problem gamblers to online casinos.
Last week, Apple issued a notice to gambling operators that it was granting a three-month extension to the deadline for ensuring that their apps were fully native to the iOS operating system. Apple announced last June that it would ban gambling 'container' apps from its App Store that featured HTML5 games 'wrapped' in an iOS shell.
Apple's original deadline for making these changes was early September, which presented developers with an almost impossible timeline for completing the transition from HTML5 to iOS native. Accordingly, Apple extended the deadline to March and has now further extended that timeline to June 30.
Given that this will have given developers nearly 13 months in which to make the necessary changes, it seems unlikely that Apple will offer a further extension come July. Then again, with society currently anticipating a full-on zombie apocalypse if the rates of COVID-19 transmission don't slow, nothing seems out of the question these days.
DAILY MAIL DUNKS ON APPLE
Meanwhile, the Daily Mail slammed Apple on Monday after discovering that problem gamblers who search Apple's App Store for apps to help deal with their problem end up seeing ads for online casino apps. The Mail claims searches for 'gambling stop' or 'block gambling' returned results in which ads for Ladbrokes Casino, Virgin Games casino and 888 Casino at the top of the list.
The sponsored listings appeared ahead of apps that provided addiction counselling or allowed gamblers to block their ability to bet via their phones. Apple has yet to comment on the kerfuffle, while Labour MP Carolyn Harris has called on the regulators like the UK Gambling Commission to "stop sitting on their thumbs" and hold the offending firms "accountable for any damage done to vulnerable gamblers."
GVC Holdings, the parent company of Ladbrokes, told the Mail it was "deeply concerned" by the report and had "suspended our Apple search advertising with immediate effect." Virgin Casino parent Gamesys also paused Apple adverts while pledging to "fully investigate" the cockup.
In January, Apple rival Google was slammed after affiliates for Curacao-licensed online casinos were able to game Google's AdWords platform to feature ads for their casino clients when customers searched for the UK's GamStop self-exclusion scheme.
Last October, the UK's Advertising Standards Authority upheld a complaint against online gambling operator Casumo after a gambler searching for "how to unsubscribe from all gambling" was presented with an ad for Casumo's online casino offers.