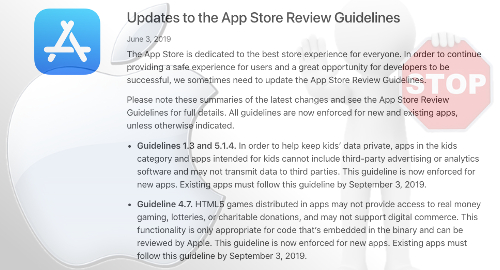 Technology giant Apple has thrown up a major hurdle for anyone looking to offer real-money gambling to iOS users.
On Monday, Apple issued updates to its App Store review guidelines, including this doozey:
HTML5 games distributed in apps may not provide access to real money gaming, lotteries, or charitable donations, and may not support digital commerce. This functionality is only appropriate for code that's embedded in the binary and can be reviewed by Apple. This guideline is now enforced for new apps. Existing apps must follow this guideline by September 3, 2019.
In case anyone didn't notice, September 3 is only two days before the new NFL season kicks off. Lucy Van Pelt couldn't have pulled a football away more abruptly.
In short, Apple is saying that companies who want to release a gambling app for iOS devices will have to develop a dedicated iOS-native app. Since native apps are focused on a single device, they traditionally offer more functionality and are faster-loading, but they also take longer to develop, which costs more.
Larger gambling operators will undoubtedly have the resources to plow into building iOS-native apps, but smaller operators will have to weigh the costs and benefits of catering to the diehard iOS fans among their customers (current or prospective). StatCounter data shows iOS has around a 23% share on a global basis but this spikes to over 49% in North America.
Apple has long demonstrated an unease with gambling apps and has proven willing to purge country-specific App Stores of all gambling products should a country's officials request and/or demand action. These actions have occasionally been of the 'ready-fire-aim' variety, leading to numerous non-gambling apps becoming collateral damage.
Apple's anti-gambling hurdles were previously suspected of being behind the delays in Pennsylvania launching its mobile sports betting offering. Sure enough, the first real-money betting product launched in the state last week by the SugarHouse Casino was available for Android devices but not iOS.