Here we are again, neck deep in the activities surrounding ICE Totally Gaming, the largest b2b gambling conference in Europe.
Its hard to tell how many actual delegates came through the expo floor and attended the ICE Conferences and seminars, but we're talking thousands- six, seven, eight, ten or more thousand.
For some, the International Gaming Awards kicked off the festivities last night, with almost all of the award winners doubling as exhibitors with gigantic booths on the floor today.
The sheer amount of booth space this year is exquisite, with 55,000 square meters of stand space, over 500 exhibitors and almost 60 nations represented across the floor.Aside from the usual land based booth branded slot machine madness, there were some pretty creative booths and branding around the expo hall this year.
Online gambling software provider Playtech brought an actual London double decker bus into the expo hall, a nice little space to promote their mobile product and hold business meetings.  Microgaming had a gigantic mechanical and moving dinosaur on display in the middle hallway, Net Entertainment revealed a giant model of an Alien after their Alien branded slots announcement, and the list goes on.
As per usual, throughout the conference floor delegates were able find open bars with free beer, snacks, a few models here and there and even a guy who could do amazing tricks with a football.
With so much happening around the conference expo hall its hard to imagine that delegates would be able to carve out time for sessions, but apparently those who are interested in Bitcoinfound the time.
The Bitcoin Seminar this afternoon was absolutely jammed beyond capacity and included several sessions covering the regulatory status of the virtual currency and why it's a great fit for the gambling industry.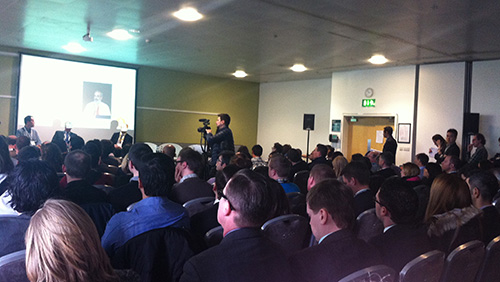 Bitcoin celebs such as Erik Voorhees and Brock Pierce were among those in attendance in addition to a number of seasoned Bitcoiners who have been active on the Bitcoinconference circuit.
An interesting point made by Pierce was that when it comes to Bitcoin, the iGaming sector has the greatest potential for velocity of transactions, even billions of dollars possible within the regulated markets.  He pointed out that emerging technologies often find their success in the gaming sector, so it should come as no surprise that Bitcoin will also flourish in the gaming sector.
"If I was a gaming operator, I would be encouraging players to play in Bitcoin", said Pierce.  He said he would even offer a bonus to his players who played in Bitcoin as the low fees and ease of transferring would open up more marketing dollars and improve the business's bottom line.
"It's the best thing you can do for your company", he said.
In addition to ICE Seminars such Bitcoin, the ICE Conferences kicked off today as well and included the World Regulatory Briefing (WrB).
The late afternoon US market update panel at WrB hosted a fiery group including Jan Jones of Ceasars, Bill Pascrell III of New Jersey and California's Richard Schuetz.  The entire group agreed that education on the online gambling industry is key and that regulation will not truly get going until this happens.  Panelists also touched on the subject of Sheldon Adelson and his hatred of online gambling, with two comments that even got the crowd to chuckle a bit, a tough feat for 5:30pm on Day One:
"Its easier to believe a myth than a fact"- Pascrell
"Sheldon Adelson is 80- he doesn't know what the internet is"- Jan Jones
Also, check out ICE Totally Gaming Day 2 Summary Video, Day 3 Summary Video, London Baby! Party Highlights Video and Fire and Ice Pantheon Highlights Video.