US SPORTS BETTING
Without question, the gambling story of 2018 came in May, when the US Supreme Court's dismantled the 1992 Professional and Amateur Sports Protection Act. The year began with legal single-game wagering in just one state and is ending with legal betting in eight states, with a number of other states expected to follow early in 2019.
The deal-making between European betting giants and US gaming firms was already well underway before the Court rendered its verdict and only accelerated from that point forward. GVC Holdings launched a joint venture with MGM Resorts, while Paddy Power Betfair opted for total control by acquiring the US operations of daily fantasy sports operator FanDuel.
William Hill had a head start on all its European rivals, having bought into the Nevada sports betting market years ago, while also setting up a sportsbook-in-waiting at New Jersey's Monmouth Park racetrack. And while Hills has done alright for itself in snaring its share of action in legal betting states, the company found itself chasing some unlikely frontrunners.
Virtually no one expected DFS operator DraftKings to be the first New Jersey licensee to launch an online sportsbook – powered by Kambi, which proved surprisingly persuasive in signing US partnerships – or that the site would stake out such a dominant early lead in the state's new betting market.
FanDuel proved a little more adept than DraftKings at scoring casino tie-ups in other states, but this frantic pace came at a cost, most prominently in the company's almost comically blatant theft of William Hill's online sports betting guide to educate FD's new betting customers.
The two DFS operators may have bolted out the starting gate, but this race has barely begun, and the imminent arrival of other companies with no direct sports betting experience but deep ties to sports fans suggests the competition will only get tougher from hereon in.
The North American sports leagues that had so vigorously opposed New Jersey's quest to overturn PASPA now became equally vigorous proponents of so-called 'integrity fees,' otherwise known as a royalty for doing what the leagues had claimed they were already doing. And like their defense of PASPA, the leagues proved equally incapable of convincing states to include these fees in their betting legislation.
In what may have been their end goal all along, the leagues eventually shifted their focus to requiring betting operators to pay for the use of league-supplied data, an area in which they have proven marginally more successful. While some operators have questioned the value of such data deals, others, MGM Resorts in particular, have proven more eager to keep themselves in the leagues' good books.
The leagues' data quest appeared to get a leg up in December, when Senators Orrin Hatch (R-UT) and Chuck Schumer (D-NY) unveiled legislation that aims to reassert some federal control over sports betting, including mandatory use of league-supplied data for at least the next five years.
UK GAMBLING CRACKDOWN A-GO-GO
While opportunities seemed limitless on one side of the Atlantic, 2018 was the year in which it all went south for UK gambling operators, as government, regulators and media teamed up to paint the industry as 21st century Vikings out to rape, loot and pillage the fair flower of England.
This anti-gambling hysteria reached peak nonsense in November when the usual media suspects lost their lunch over the £265m annual compensation package collected by Bet365's Denise Coates. The company is privately owned, and thus its profits are shared between a handful of individuals rather than thousands of shareholders, but why let logic get in the way of a perfectly good hit job?
The year began with the UK Gambling Commission (UKGC) announcing that it was probing 17 of its online casino licensees for various shortcomings. Before the year was through, the UKGC had hit a dozen operators with over £27m in penalties and the regulator's new CEO was warning of a "relentless escalation" of these fines if operators didn't up their compliance game.
The government finally pulled the trigger on its plan to slash the maximum stakes on fixed-odds betting terminals in retail betting shops from £100 to £2, which will take effect on April 1, 2019. The government also moved forward its plan to increase the Remote Gaming Duty from 15% to 21%.
The year closed with UK betting operators agreeing to stop running commercials during live sports broadcasts, apparently in the belief that this would appease anti-gambling campaigners and media, who then might let the gambling companies keep their highly visible shirt sponsorships of English football clubs.
Online slots stakes are the next likely front in this anti-gambling war, as there's precious little difference between the FOBTs and their digital counterparts, so what's bad for the goose will prove equally dire for the gander.
BRAZIL OKAYS SPORTS BETTING
The outoing Brazilian president's recent signing of legislation authorizing both land-based and online sports betting came as something of a shock, given that the bill was introduced into committee and then passed by both legislative chambers in roughly two weeks' time.
These same legislative bodies had endlessly debated rival gambling expansion bills for four years without any sign of forward progress. Turns out all the motivation they needed was a national election that ushered in an authoritarian nutjob as president and the promise that some of the new sports betting revenue would build up the state security apparatus. Ain't democracy grand?
Would-be Brazilian sports betting licensees may be salivating at the prospects, but the legislation was maddeningly short on specifics. The Ministry of Finance will have up to two years in which to craft regulations and decide on minor items like how many licenses will be issued, that is, assuming the country doesn't decide to give the Caixa lottery a betting monopoly.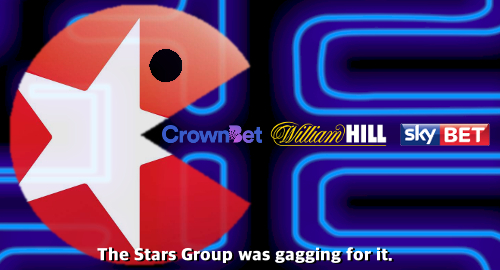 THE STARS GROUP BUYS SKY BETTING & GAMING
The Stars Group (TSG) started 2018 with a few relatively minor acquisitions of Australian online sports betting businesses – CrownBet and William Hill Australia – re-establishing its down under presence after its flagship PokerStars brand was forced out of the market by legislation banning non-betting online products.
And then, TSG gobsmacked the industry in April with a $4.7b deal to acquire Sky Betting & Gaming (SBG). Overnight, TSG was humble-bragging about becoming the world's largest publicly traded online gambling company and its formerly poker-reliant balance sheet suddenly looked a whole lot more balanced.
Stateside, TSG witnessed the launch of its first US sports betting operation in New Jersey, while preparing to launch operations in Pennsylvania. TSG continues to ink deals to position itself for further betting expansion as the legal situation permits amid rumors of a major tie-up with a US broadcasting giant like ESPN, in an apparent bid to mimic the success of Sky's UK broadcasting/betting model.
TSG closed out the year by dodging an $870m bullet in the state of Kentucky, but perhaps the biggest sign of how far TSG has come was its March introduction as a new member of the American Gaming Association. In 2013, the AGA actively campaigned to keep TSG's flagship PokerStars brand out of the New Jersey market lest it compromise "the integrity of the gaming industry." You've come a long way, baby.
TSG's positive trajectory was even evident in its former CEO David Baazov, who beat the odds by beating the rap of insider trading brought by securities regulators in Baazov's home province of Quebec. Prosecutorial bungling prompted a judge to stay all charges against Baazov in June, leaving him a free man, as in free to watch the company he was forced to exit following those charges climb ever-greater heights.
ITALY ADVERTISING BAN
Italy's new coalition government, a shotgun marriage of left- and right-wing populists, shocked the gambling industry in May when it unveiled its so-called Dignity Decree, which included a planned 35% reduction in the number of electronic gaming machines in retail shops and "an absolute ban on [gambling] advertising and sponsorships."
The ban is scheduled to kick in on January 1, 2019, and some operators attempted to dodge this bullet by quickly signing new sponsorship deals with Italian football clubs, apparently convinced that such deals would be grandfathered in. But the government soon made it clear that all sponsorships would expire on June 30, 2019, regardless of when they were signed or how long they were scheduled to run.
Italy's licensed operators warned the government that their plans would only serve to boost international operators serving local punters without local permission. These predictions proved prescient when Google updated its search results to reflect the government's new rules and Italian-licensed operators dropped down the search results while international operators rose.
On top of these restrictions, Italy's coalition government gave gambling operators another late lump of coal for their Christmas stockings by announcing across the board online and land-based tax hikes that take effect January 1. And to all a good night…
HONORABLE MENTIONS
China's state-run lottery operations demolished their previous record sales figures in 2018, which also saw the sports lottery overtake the formerly dominant welfare lottery in sales for the first time. The gains came despite Beijing steadfastly refusing to lift the nearly four-year-old moratorium on online lottery sales.
Australian betting operator Tabcorp folded its UK-facing money-losing Sun Bets online joint venture with media giant News Corp in July, paying a £39.5m penalty for an early termination of its contract. Despite its media connections, the site never caught on with punters during its two-year run, and is best remembered for its role in the infamous PieGate incident.
Lottery betting operators like Lottoland became punching bags for struggling state-run lotteries around the globe, most notably in Australia, where the government passed a law prohibiting their operation. The operators formed a lobby group to defend their interests, and Lottoland scored some impressive PR by issuing the largest payday in online gambling history, but the sector nonetheless enters 2019 very much on the defensive.
Kenya's betting operators began the new year under the new 35% tax regime and the market's homegrown star SportPesa made good on its threat to scrap its lucrative sponsorship of local sports bodies. But after several attempts, the government succeeded in rolling back the tax to a more reasonable 15%, although Kenyan punters were asked to make up the difference through a 20% tax on their winnings.
While New Jersey's new sports betting options grabbed all the headlines, its online casino and poker market brought in $269.7m through the first 11 months of 2018, already higher than the $245.6m the state's online licensees earned during all of 2017. But online poker continued its largely uninterrupted slide into irrelevance, sinking to a new record low in November.
Gambling tech provider Playtech had another banner year, including the $1b acquisition of Italian operator Snaitech, first dibs on the Asian-facing online casino market and backstopping Poland's online casino monopoly. But uncertainty surrounding its Asian black-market ops and new Italian taxes led to the company's share price falling 57% since the start of the year. The company also closed the book on its origin story after founder Teddy Sagi sold off his remaining stake in the company in November.