Poker content creators Jaime Staples and Evan Jarvis watch helplessly on as YouTube takes down video after video citing contravention of 'Community Guidelines'.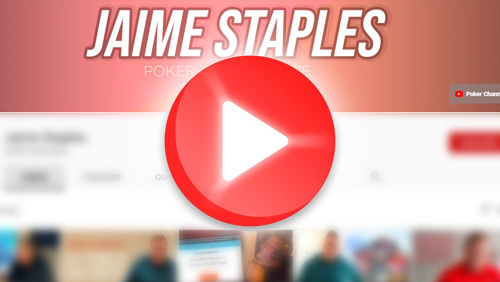 It's been five-years since Victoria Coren-Mitchell left PokerStars as an ambassador after they decided to move into the online casino business. Writing on her blog at the time:
"This is no criticism of PokerStars itself: business is business, they are providing a new service that people want, and I know they intend to abide by some key principles of responsible gaming. It's not anti-casino either; I spend a lot of time in casinos, and I have been known to indulge in live table gaming.
"But I cannot professionally and publicly endorse it, even passively by silence with my name still over the shop. Poker is the game I love, poker is what I signed up to promote. The question I'm probably asked most often in interviews is about the danger of addiction, going skint and so on. I'm always careful to explain the difference between the essentially fair nature of poker, where we all take each other on with the same basic chance, and those casino games at unfavourable odds which can be (especially online) so dangerous for the vulnerable or desperate. Although PokerStars assured me I would not have to actively promote the casino arm, I know in my heart that continuing in my current role could risk helping to send people to a place where they would encounter something I think is dangerous. That's not the way I want to make a living."
It took some time, but it seems YouTube has reached the same conclusion as the 'Only Connect' host.
Over the weekend, YouTube's governors decided to shun poker content perceived to be created to sell the glories of online gambling casinos like circus freaks in a posh folks' wedding ceremony.
The poker community first became aware of YouTube's current interest in poker content after Jaime Staples began posting on Twitter that YouTube was removing his material.
Staples continued to tweet updates as the number of deleted videos rose until it maxed out 134 videos.
It was as brutal as watching a two-years-old child stumbling through hot sand minus their Crocs.
Poker YouTube Pocalypse update. 134 videos gone. 24 vlog channel, 110 poker channel.

— Jaime Staples (@jaimestaples) June 1, 2019
Staples wasn't the only professional poker player feeling helpless as YouTube flushed their career down the toilet. Evan Jarvis also posted on Twitter that YouTube had removed 100 pieces of content, and also issued him two strikes in a 'three strikes and you're out' policy.
Feeling pretty lost and scared right now about my @Youtube Channel

After 10 years of hard work and no violations, overnight Ive received 2 strikes and am at threat of getting 2 more overnight and losing my entire channel?

Please advise @YTCreators This is my livelihood here 🙁 pic.twitter.com/KCnsyPsUmM

— Evan Jarvis (@Gripsed) June 2, 2019
YouTube is a monster, and this makes it challenging to communicate with anyone, and this is a significant problem for Staples, Jarvis, et al. A gander at Twitter and articles in the media shows that those responsible for deleting the videos within YouTube don't understand the difference between online poker, and online gambling.
Those same reports suggest the primary problem seems to be Staples' and Jarvis's references to PokerStars. Staples was a member of PokerStars' ambassadorial team for four years before recently moving to partypoker, and Flushdraw's Haley Hintze stated in her piece on the topic that Jarvis 'often promoted PokerStars heavily.'
YouTube has accused both Staples and Jarvis of violating their 'Community Guidelines,' with the 'Sale of Illegal or Regulated Goods,' section being the bullet to the head.
Sale of Illegal or Regulated Goods
Content intended to sell certain regulated goods and services is not allowed on YouTube.
If you see content that violates this policy, please report it. Instructions for reporting violations of our Community Guidelines are available here. If you have found multiple videos, comments, or a user's entire channel that you wish to report, please visit our reporting tool, where you will be able to submit a more detailed complaint.
What this means for you. If you're posting content, don't post content on YouTube if it aims to sell directly any of the items listed below or links to sites that sell these items.
– Online gambling casinos.
Jarvis has close to 70,000 subscribers on YouTube, and Staples has more than 94,000 across his two YouTube accounts.