After a week off, the Poker Routines column returns this week taking a peek underneath the scalp of PokerStars Team Online Pro, Jaime Staples.
Fans of Jaime Staples were expecting to see him taking part in the epic StreamBoat II, but plans for a repeat performance aboard Bill Perkins' yacht were cut short after Hurricane Irma tore the Virgin Islands to pieces.
So with some time on his hands, the PokerStars Team Online Pro decided to share his poker routines with all of you.Enjoy.
Who are you?

Jaime Staples. I am Poker Pro, Team Online and online content producer.
What is your claim to fame?
My Twitch stream under the name of PokerStaples.
When did your aspirations to become a poker player begin?

When I was 18 I started competing against my brother for more play chips. I started researching the strategy of the game, and things took off from there.
How do you spend the first hour when you wake up?

Shower, Breakfast, Social Media, Emails.
What time of the day do you find it easier to play poker and why?

I like starting around 75 minutes after I wake up. I just find the day easy to be a success when I can start the biggest task of the day right away. Also playing my career in Canada, the timezone works well for starting a session 8-10AM.
Do you have defined goals for how many hands/sessions you play in a week: both live and online?

I do not have volume goals. Generally when I want to motivate myself I will set a certain amount of days in a row. Never force myself to play a certain amount of hands a day or tournaments a day though.
Where do you play online, what types of games, and stakes?

I am a Sponsored pro with PokerStars and play tournaments there ranging from $5 up to $1,050
Do you have a specific routine that you go through before you begin an online poker session?

Meditation can help If I'm really in a good space. With streaming, there is also a process for getting all the systems running that are needed to make a really good stream.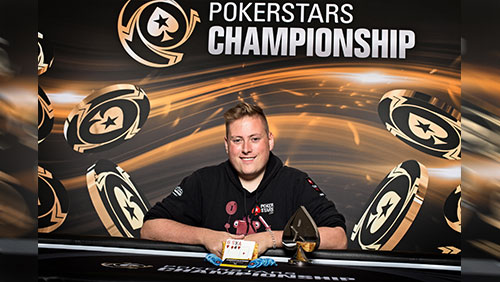 When you first sit down to play poker how do you begin?

Generally I am talking to the audience watching but in general it is a smooth transition for me. It feels like the start of a work day. Relaxing and chill.
Describe your grinding station set up.

I travel quite a lot so currently it is a laptop and an 24 inch monitor I travel with. I have to replace broken equipment a decent amount from being in suitcases and getting crushed to death so it rotates a decent amount.
What tools do you use when playing poker, live and online?

For studying I use every tool I can to try and learn the most efficiently. When I am playing I use poker tracker 4 and Jivaro huds.
What're your thoughts on listening to music when playing? If you do, what do you listen to?

I used to listen to podcasts to start the day quite a bit before I started streaming. I think the absolute best focus is with silence but I also think that column is important. So Giving up a tiny bit of focus in the chill times to listen to podcasts, music, streams, etc. makes long term sense.
If you use a HUD then how do you use it?

Generally just basic stats. I don't get very in depth with the HUD but something I'm trying to get better at.
What system do you use for taking notes on your opponent's, live and online?

I use note taking primarily for game selection. So I will make an assumption about how experienced my opponent is and tag them as such. When I go through tournament lobbies I can see if it is a tough field that day or on the easy side. That helps.
Do you have a specific warm down routine after you have finished a session?

Social media, uploading youtube content, eating dinner, studying are usually my post grind activities.
What do you eat and drink when you play, both live and online?

little amounts of food but never a huge amount. Drink will be coffee, water, and Diet Pepsi.
What is your process of review?

I mark hands that I play, will filter for specific situations periodically, and then go over deep runs as well.
How do you educate yourself about poker?

Learning from better players then myself (or players that I can learn something from which is almost everyone.) I will watch content mainly and apply to my own game.
How do you improve your mental state?

I think improving the rest of my life around me helps with that. Also being realistic about the variance and results of poker can help me not be to critical.
How much of your time is spent playing versus learning?

About 80 play/20 learn
How do you know when to stop a session?

When I am tired. I assume that correlates with mistakes and might as well sleep and do it again the next day.
Are you consciously trying to emulate the style of a particular player? Do you have people you look to as models for your game?

I look up to a ton of poker players but I try to learn from a bunch of different sources. Right now BENCB is the biggest source of inspiration on how best to play tournaments for me.
Is poker easy? Does it come naturally to you?

I don't think it is. I think some of it comes naturally but other parts I have had to work on a lot.
What is your favourite moment in poker?

The day I signed with PokerStars. I topped it off with a Big 109 win on the day I announced it so that was pretty special to me.
What books/courses/mentors have helped improve your game (doesn't have to be a poker book)?

Raise Your Edge tournament Master Class. Epic epic epic tournament poker content. Back when I started Deuces Cracked was my first training site. I wouldn't be where I am without that original group.
Do your surroundings affect your work, how?

Yes I think they do! To me if a space gets stale, or is uninspiring, or unpleasant to be in, (and the reverse of all these) it can have a big effect. Especially on volume. If you don't like the feeling of your office, or even the city your in, the desire to work hard is just not going to be there.
Was there ever a time when you didn't want to play poker? How did you get out of the funk?

Yeah I go through that about once a year. I think studying poker, as well as reading or going through some self improvement journeys really help me get back at it.
How does poker make you feel?

Happy
What is the one thing you know you have to change after answering these questions?

My pre game routine needs to contain a bit more consistency with the meditation.
What is the one question I didn't ask, but should have asked, and now answer it.

I play around 6 days a week when actively playing, but often take trips to live events, or need a few days to travel. I enjoy the experience of an endurance grind (aka 10 days straight) followed by 5 days off. Weekday schedule is really interesting I think.