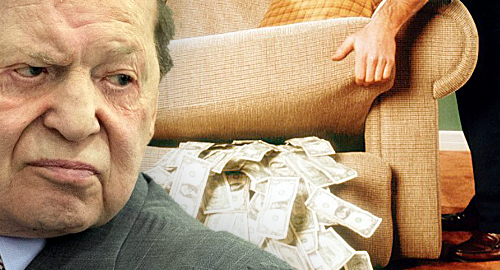 Sheldon Adelson, the irascible chairman/CEO of casino operator Las Vegas Sands, has topped all gambling executives on Forbes' latest list of the world's fattest fat cats.
According to the official top-2,043 billionaires list published this week, Adelson's net worth is around $30.4b, good enough for 20th position on the 2017 chart but well back of Microsoft founder Bill Gates, who topped all comers with an $86b fortune.
Interestingly, Forbes introduced a new wrinkle this year that attempts to track real-time changes in their billionaires' valuation, and Adelson's ranking had risen to #18 as of late Tuesday afternoon, despite the fact that he reportedly lost around $622m on the day. (Just a suggestion, but has he checked under the sofa cushions? That's where we usually find stuff.)
Despite Adelson's wealth, it's amazing how little influence he appears to wield through his highly publicized political lobbying. His pricey efforts to convince federal politicians in Washington to ban online gambling have yet to bear any fruit, while politicians in Israel – where Adelson funds a money-losing newspaper whose sole purpose is promoting the prime minister – recently decriminalized recreational marijuana use, which must have seriously harshed the buzz of the stridently anti-pot Adelson.
Galaxy Entertainment Group boss Lui Che Woo was the second-richest gaming billionaire, but his $12.1b fortune could only net him a #109 finish. (Technically, Carl Icahn was second at #55 with a $16.6b pile, but his rapidly dwindling casino interests are essentially a sideline at this point.)
You have to drop all the way down to #194 to find our next entrant, Novomatic Group founder Johann Graff, with a net worth of $7.2b. The first billionaire who made his bones from online gambling is PokerStars' former co-owner Mark Scheinberg at #367 ($4.5b).
The female contingent was led by MGM China's Pansy Ho, who landed at #414 ($4.2b), just ahead of SJM Holdings' Angela Leong at #427 ($4.1b), while Bet365 boss Denise Coates was ranked #522 ($3.6b).
The rest of the top-10 was led by Maruhan pachinko boss Han Chang-Woo at #564 ($3.4b), Playtech founder and ex-'jailbird pornographer' Teddy Sagi at #630 ($3.1b) and Crown Resorts' largest shareholder James Packer at #660 ($3b). Now, if you'll excuse us, we have to run down to Subway because we have a footlong sandwich coupon that's about to expire.