The online poker hearing by the New York state Senate's Standing Committee on Racing, Gaming and Wagering turned out to be a lonely affair for the sponsor of the state's online poker legislation.
State Sen. John Bonacic, who introduced New York's S 5302 online poker bill earlier this year, started Wednesday's hearing flanked by two other legislators, both of whom were gone before the day's third of seven scheduled speakers had a chance at the microphone.
Bonacic insisted their exits were nothing to do with anything the speakers may have said but were due to their having made prior commitments, although that did illustrate the lack of legislative urgency surrounding online gambling in the state.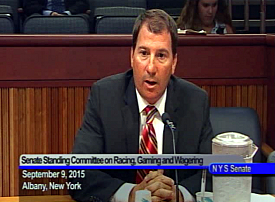 Poker Players Alliance executive director John Pappas, a fixture at these types of hearings, popped the day's cherry with his usual stump speech regarding the need to authorize and regulate online poker to protect consumers from "fly by night" operators. Pappas made two references to defunct ponzi scheme Lock Poker to add weight to his claims.
Up next was James Featherstonhaugh, president of the New York Gaming Association. Featherstonhaugh preached the need for legislators to move cautiously in order to properly assess online poker's potential impact on the state's existing nine racinos.
Featherstonhaugh noted that the state is scheduled to get three new resort casinos in the next few years (and possibly a fourth), the impact of which can't yet be predicted. Featherstonhaugh suggested lawmakers might want to wait until those three casinos are open before tossing another new gaming element like online poker into the mix.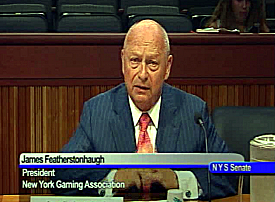 When Bonacic pointed out that it might be another three years before all three casinos are open, Featherstonhaugh said he didn't necessarily view this delay as a lost opportunity. However, Featherstonhaugh appeared far more amenable to online poker's potential if the state were to ensure that the racinos had a role to play in their operation.
Featherstonhaugh got a laugh when he noted that online race betting was growing, and suggested he'd observed some members of the galley making online wagers before he sat down to deliver his testimony.
Spectrum Gaming Group's Michael Pollock warned legislators that the state's racinos were facing an aging customer base and that online poker offered a way to reach out to a new gaming audience. Pollock reassured Bonacic that New Jersey's online gambling market had demonstrated that the overwhelming majority of online gamblers had never crossed the floor of a brick-and-mortar casino.
Pollock noted that online gambling also offered casinos the chance to convert online players to brick-and-mortar customers. This conversion wouldn't be automatic but it could be achieved because he believes humans will always seek out social experiences. "Technology changes; human nature does not."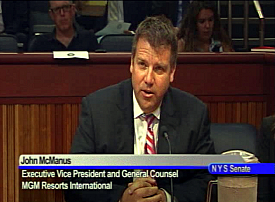 Up next was John McManus, general counsel of MGM Resorts. McManus, whose company shares ownership of Atlantic City's Borgata Casino – New Jersey's online gambling market leader – said he understood the racinos' desire to protect their market share. But McManus warned that all industries needed to embrace the internet in order to avoid "being Amazoned" into irrelevance.
McManus was followed by David Satz, senior VP of government relations at Caesars Entertainment. Satz said online gambling revenue wouldn't be a "panacea" for New York but would supply "a decent amount of money." Satz estimated the state could reap between $256m and $425m in tax and licensing revenue over a 10-year period if the state opted for a "reasonable" tax rate of no more than 15%.
Satz mentioned the ongoing efforts by "a certain individual" – aka Las Vegas Sands chairman Sheldon Adelson – to pass a federal online gambling ban, describing the threat as "very, very real." Satz suggested that Featherstonhaugh's 'wait and see' approach could be disastrous if the feds were to act while New York was waiting.
Borgata president Tom Ballance was next, explaining that his casino had been a reluctant online participant but ultimately rationalized that if they didn't take this business, their competitors would. Ballance said online had turned out to be an "excellent addition" to the Borgata's revenue mix.
Ballance described the typical online gambler as "very different" from their brick-and-mortar counterpart. The online player was "more of a nibbler" who tended to "play for a few minutes and get out."
Ballance noted that New York's poker-only proposal would limit the state's market. Poker was only around 18% of New Jersey's online revenue and Ballance believes New York would likely expect only about twice New Jersey's poker revenue.
Ballance pointed out that New Jersey had started with four online poker networks but now had only two. Ballance warned that unless New York struck liquidity sharing compacts with other states it would likely see its online poker market eventually shrink to two or three "long-term surviving" networks. Ballance said New Jersey would love to compact with New York should the state act on its online poker plans.
Ballance also brought up New Jersey's efforts to expand the use of skill-based games. Ballance said it was "critically important" for the industry to figure out how to monetize skill-based games because of their popularity with younger demographics.
Ballance was followed by Kevin Cochran, a senior legal analyst for online gambling news site GamblingCompliance. Cochran said New York's online poker market would likely be worth $122m in its first full year of operation, rising to $164m by year four. Cochran said New York was unlikely to suffer the payment processing difficulties New Jersey had to contend with following its market launch.
Cochran estimated that a mature New York online poker market would represent less than 5% of the state's $7b in total annual gaming revenue. Asked by Bonacic whether the $10m licensing fee required under his poker legislation would act as a deterrent to prospective applicants, Cochran said it could limit the number of interested parties, particularly if the fee was not used as a credit toward future tax revenue.
The final speaker was Richard Schwartz, president of Rush Street Interactive, who provided a nice bookend to the day's proceedings by also mentioning Lock Poker, making Jennifer Larson the alpha and omega of online poker hearings.
Schwartz said online gambling represented a unique marketing opportunity for brick-and-mortar casinos with results few other opportunities could match. Schwartz cited claims by New Jersey's Golden Nugget, which said that when a land-based player signs up for its online site, that player subsequently spends 11% more on gambling at the brick-and-mortar casino.
Schwartz agreed that the land-based gaming industry should have a role to play in the online gambling business, if only to provide a physical location to which players can go if they experience some sort of problem.
Bonacic wrapped up the day's events by saying he'd received three written submissions, two of which came from groups opposed to his legislation. Bonacic will be accepting further submissions until the end of the month.
No one seriously expects any movement on Bonacic's legislation this year, but it would have been nice had more legislators shown a little more interest in at least hearing what stakeholders had to say.