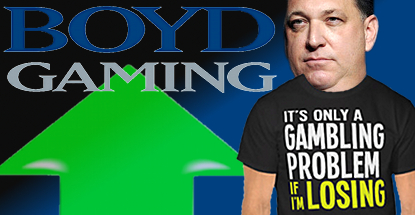 Casino operator Boyd Gaming posted a $1.6m profit from its online gambling operation in New Jersey during the second quarter of 2015.
Boyd says its online gambling partnership with Bwin.party digital entertainment turned a profit for the fourth consecutive quarter, contributing $1.6m to Boyd's Q2 earnings. That's $500k more than Q1's tally but less than the $1.8m the online division contributed in Q4 2014.
Boyd is 50% owner of Atlantic City's Borgata casino, which is the undisputed leader in New Jersey's regulated online gambling market. In February, Boyd CEO Keith Smith (pictured) predicted that the company's online gambling operations could contribute up to $5m to Boyd's bottom line in 2015. Halfway through the year, they're already at $2.7m, so that projection looks like a winner.
DAILY FANTASY SPORTS "IS GAMBLING AT ITS CORE"
On the post-earnings call with analysts, Smith was asked about the possibility of Boyd getting into the social casino market. Smith said social gaming was "something that we've been paying attention to, we've dipped our toe in the water here" via its New Jersey online operations. Smith said Boyd was "interested in continuing to expand that and so we're very interested in the social gaming aspect of it."
Smith was also asked for his thoughts on daily fantasy sports (DFS), which he described as "an interesting conversation." Smith noted that DFS wasn't legal in all 50 states and that some states used "aggressive" words to characterize DFS activity. Smith said in Boyd's view, DFS "is gambling at its core and should be regulated just like other forms of gambling; today it is not."
Smith's comments echo those made in April by MGM Resorts CEO Jim Murren, who said that anyone who believed DFS isn't gambling was "absolutely, utterly wrong." Expect casino operators to continue to push for regulation of the DFS sector, which will make profits even more elusive for investors plowing hundreds of millions into the likes of DraftKings and FanDuel.
AMERICAN CONSUMERS "GROWING MORE CONFIDENT"
As for Boyd's traditional brick and mortar casino business, total revenue in the three months ending June 30 was $559.9m, up 3.5% over the same period last year, representing Boyd's fourth consecutive quarter of top-line growth. Adjusted earnings were up 17% to $162.9m – the third straight quarter of double-digit earnings growth – but Boyd reported a net loss of $6.4m for the quarter, primarily due to pre-tax losses on the early extinguishment of $31m in debt.
Smith said Q2 was an "exceptional" period for Boyd, with revenue gains across all its business segments. The Las Vegas Locals segment was up 3.2% to $153m, Downtown Las Vegas was up 5% to $58.4m, Midwest & South was up 4.1% to $217.8m, Peninsula rose 2.2% to $130.6m and the Borgata rose 5.1% to $191.2m.
Smith said the company saw growing evidence of consumers "growing more confident and showing a greater willingness to spend." As such, Boyd raised its FY 2015 earnings guidance to a range of $575m to $595m.
Comments