Las Vegas Sands has posted its Q1 numbers, showing net income of $228.2m, a substantial turnaround from 2010's loss of $28.9m. Overall revenues were $2.11b, a 58.2% increase over the same period in 2010. Net revenue in Macau was up 22.6% to $1.16b, but net income was up sharply higher, rising 131% to $262m. In Singapore, net revenues were $584.9m, with total operating income of $196.7m. Of course, every family has an ugly stepchild, and in LVS' case, it's Vegas, where net revenues fell 7.7% and operating income dropped 24.2%. Blame for Sin City's slump goes to a low hold rate at their table games, which resulted in a $45m hit to their bottom line.
Clearly feeling his oats, LVS honcho Sheldon Adelson announced that he expects the company to "go somewhat over" the $3b EBITDA mark in 2011, which would be a first for the company. So, with all this good news, how did the markets react? Predictably, those insatiable analysts claimed LVS had missed these same analysts' imposed targets, prompting the stock to drop 9.6%. Things were much the same with Sands China, which fell 5.6% by mid-day trading. Ah, stock markets… Is there no rose they won't piss on?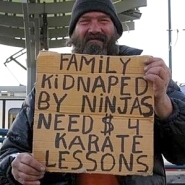 Speaking of being pissed on, things were bad enough when news broke that Atlantic City had slipped to third (behind New Orleans!) amongst America's preferred gambling destinations. Now comes word that a New Jersey state agency is paying homeless people to get out of town. The Travelers Assistance Program is being allocated an additional $100k to provide one-way bus or plane fare to the indigent. Sounds remarkably generous, but it's not really for their benefit.
State official Susan Ney Thompson describes the program as "one of those quality-of-life issues for our visitors and frankly, our residents here who are confronted by the needy." Thompson denies that this is "Greyhound therapy" (whatever that is), but does suggest that police sweeps of the Boardwalk and other public places are likely to escalate in the future. So get out now, while the getting out of jail is free? Seriously, someone better give New Jersey intrastate online poker and/or legalized sports betting, and soon, otherwise it will only be a couple more years before AC starts to look like Bartertown from Mad Max Beyond Thunderdome.