US ONLINE MARKET
Some industry observers believe fear will grip the United States in 2014; the fear of individual states being left behind in the great online gambling race. The theory is that once states realize that a 200-foot tall Sheldon Adelson isn't actually going to rise out of the Atlantic Ocean to wreak his Godzilla-like vengeance on New Jersey's online gambling shore, many of these states will start to wonder why they've been standing on the sidelines all these years.
I believe both operators and states are in for some sticker shock when they realize just how little money there is to be reaped via the glacial pace of the state-by-state rollout of online gambling across the US. The situation will mimic the newly regulated markets in Europe, in which one or two dominant players emerge while the rest struggle hard just to break even. Bwin.party's PartyPoker is reportedly off to a good start in New Jersey, but the company admits the setup costs alone amounted to between €7m and €10m in 2013. Barring an equally dominant performance by Bwin.party's casino vertical and significant growth in the state's overall market, turning that red ink to black will be a mean feat.
The money-losing operators will hang on in the hope that interstate compacts will remedy their situation, but even when struck, these agreements will be limited to poker, traditionally a far less lucrative vertical than slots or casino games. (Poker and casino without sports betting is still going to be only about 70% of the online game, and barring a Hail Mary miracle finish at the US Supreme Court by New Jersey's legal quarterbacks, sports betting appears set to remain a Nevada-only staple for years, if not decades, to come.) Given the fact that Delaware's miniscule market appears to be struggling to maintain poker liquidity in double-digit territory and Nevada's online poker market has actually shrunk over its first eight months of existence, there would seem to be little urgency for a market like New Jersey to offer to share its toys.
Besides, no other state is even close to joining America's thrillsome threesome in actually processing online wagers in 2014. Even the states Most Likely To Legislate – including Pennsylvania, Illinois and (late entrant) Colorado – probably won't garner enough consensus to push an online gambling bill across the finish line over the next 12 months.
California remains the most interesting state in play for obvious reasons. Its population is four times the size of New Jersey's, and thus one of the few US states in which a number of operators could thrive. California is also unique because the state's Indian tribes – not the usual cast of Nevada-based casino operators – will be the ones calling the shots (assuming they can coalesce behind a single legislative effort).
For the record, I think California will get its legislative act together next year. But even when California joins the online party, it will be poker-only – at least, to start – and the state's capacity to make a go of things on its own will provide little incentive for liquidity sharing with other states. Bottom line: it will be years yet before the US online market is anything more than a loss-leader, even for its most successful operators.
I could be wrong about California's tribes being able to set aside their differences, but regardless, 2014 will see tribal gaming across North America grow more comfortable in flexing its muscles. The continent's original inhabitants have a sovereign right to participate in online gambling, and you can expect them to become a lot more vocal in asserting these rights over the coming 12 months.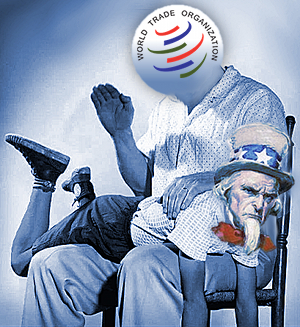 ANTIGUA
2014 will be High Noon for the showdown between Antigua and the United States. Either the US Trade Representative (USTR) will finally honor the near decade-old World Trade Organization (WTO) ruling that the US stance towards Antigua's online gambling industry is anti-competitive or Antigua will make good on its WTO-authorized threat to offer royalty-free digital downloads of US intellectual property. In its dealings with the USTR, Antigua has displayed a patience that would make Job look impetuous, but even Antigua has its limits. I'll go out on a limb and say the US will offer a settlement that Antigua will find acceptable.
CANADA
Canadian provincial lottery corporations are in for a rough ride in 2014. Despite the recent senior executive shakeup, the Ontario Lottery and Gaming Corporation will finally get around to launching their Spielo-powered online site, joining their counterparts in Quebec, British Columbia and Manitoba. OLG will market the hell out of its new PlayOLG.ca site, but the government's official blessing of online gambling will also boost traffic to internationally-licensed Canadian-facing sites, leading to underwhelming online returns for OLG.
The provincial lotteries' online sites will also suffer due to their second-rate sports betting product. Despite endless debate, there's still sufficient resistance to ensure the country's C-290 single-game sports betting legislation will once again fail to make headway in the Senate, relegating the provincial monopolies to their unpopular parlay wagering system. The BC Lottery Corporation's online operation PlayNow generated revenue of $73.3m its most recent fiscal year, some $18m shy of projections, so expect BCLC boss Michael Graydon's public pillorying of internationally-licensed online gambling sites to grow ever more cranky.
I also expect the provincial monopolies that are operating online sites will pressure Canadian authorities to bully international operators, even though there's no law on the books banning Canadians from playing with any international operator they want, nor any law banning international operators from taking Canadian players. 2014 will be the year when this bullying causes all the remaining European public companies to pull out of the Canadian market, once again leaving the market to privately owned international operators.
EUROPE
Like the clichéd police instruction to looky-loos, nothing to see here, folks. Expect more of the same in the globe's most mature and tax-happy marketplace. Despite the recent French decision to maintain its walled garden, Italy and Spain will likely decide to go ahead and share online poker liquidity, but this will only serve to improve the fortunes of the two or three operators in these markets that are already making a go of things, while doing little to boost the fortunes of the other money-losers.
Despite William Hill's recent assurances, Gibraltar's status as an online gambling regulatory hub will come under threat as other UK-facing companies adjust to the UK's new gambling codes of conduct. As they calculate the damage posed to their bottom lines by the implementation of the point-of-consumption-tax, Gibraltar-based operators will question the wisdom of maintaining their operations on The Rock along with a now superfluous Gibraltar online gambling license.
ASIA
Macau casino operators will continue to find innovative workarounds to the gaming hub's constraining gaming table cap. Last year saw operators embracing stadium-style electronic baccarat stations that serve up to 100 players from a single cap-counting 'table'. In 2014, some operator will take the next logical step by introducing mobile tablet live dealer baccarat within their casino walls to ensure none of their gamblers ever have to check out a neighboring casino to find a seat at the table.
Vietnam's lone resort casino – The Grand Ho Tram Strip – will undergo a financial crisis in 2014, the seriousness of which will finally convince the government to reconsider its longstanding policy against allowing local residents to gamble in favor of a Singapore-style casino entry levy system. But this about-face will prompt operators like Las Vegas Sands and Genting to resume their pursuit of this market, which will ultimately spell even bigger problems for The Grand's long-term prospects.
Japan will issue two resort casino licenses – one going to either Sands or MGM Resorts (with a local partner along for the ride). Wynn Resorts will also apply, but Universal Entertainment boss Kazuo Okada will finally get his revenge on Steve Wynn by using his local influence to torpedo Wynn's bid. The second license will go to an Asian operator like Universal, Genting or Melco Crown. Concerns over Caesars Entertainment's debt load will once again eliminate it from serious contention, leading to serious calls for CEO Gary Loveman – the unfortunate architect of Caesars' Asian non-invasion – to atone for his blunder by stepping down.
The other big story of 2014 in Asia will be the rise of competitors to the First Cagayan regulatory jurisdiction in the Philippines. There are a number of competing groups vying for a piece of the online game and more are coming on-stream this year, giving operators more choice as to with whom they wish to work. Corruption is a problem, as Bodog Asia saw with an illegal raid on its premises caused by criminal ex-staff using influence peddling to advance their misguided personal agenda. Most operators will react to the issues attacking our industry there by planning structural changes, so the core industry in the Philippines will survive but not in its present form.
My personal opinion of that jurisdiction has been forever changed and I doubt I'm the only one drawing lessons here. Additionally, the industry in the Philippines really needs to join together and form an association to protect its political position if the country hopes to maintain its present status in the global industry. Corruption will also slow the rise of the Philippines' land-based gambling sector, but it will improve this year in spite of the corruption and related infrastructure issues.
INDIA, LATIN AMERICA and AFRICA
All these markets are progressing well and will continue to grow. They are also all 'grey' and therefore almost totally being enjoyed by privately held online gaming companies (much as in Asia, currently the world's largest online market). Not much to predict here but more of the same with payments and digital marketing being the battleground.
There's an old adage that a convoy has to travel at the speed of the slowest ship. Smartphone penetration in emerging markets is growing but continues to lag that of western countries, meaning those operators willing to devote time and effort to a mobile offering that doesn't disregard feature phones will win more hearts and minds. And with sports betting all the rage in these markets and the 2014 FIFA World Cup just around the corner, there are a lot of hearts, minds and dollars up for grabs.
Sri Lanka's push to launch resort casinos catering to a predominantly Chinese and Indian clientele will finally wake India up to the idea that keeping some of those rupees within its borders might actually be more important than tired old stereotypes about the evils of gambling.
TECHNOLOGY
After years of gathering momentum, mobile will officially become an all-star in 2014. Much of the growth to date has been due to sports betting and random number generator casino, with some UK operators reporting mobile wagering accounting for over two-fifths of sports wagers in 2013. Operators are now adapting their live dealer casino offering for the mobile space, which will significantly boost mobile wagering's appeal in the all-important Asian markets. Additionally, products such as keno, lotteries, spread betting and other financial trading options will help flesh out the colors in the mobile betting rainbow.
Mobile's growth will get an assist from payment providers, who, like Facebook, took a while to grasp the 'desktop = dodo' reality taking shape out in the real word but are finally getting with the program. As existing hurdles facing mobile deposits and withdrawals are lowered, gambling on the go will increasingly become the default option for bettors. Affiliates are also making a late charge with dedicated sites and applications catering to the swelling ranks of mobile-only gamblers, moves that will have significant impact on how operators approach customer acquisition and marketing.
The state of Smart TV gambling is currently where mobile gambling was a few years ago: lots of promise, little traction. But sales of smart devices for the home quadrupled in 2013 and it's a medium that meshes well with live dealer casino. Yet there are still few operators putting much effort into serving this market, so the opportunity to gain a first-mover advantage awaits. That said, given television's traditional connection with the home/family, this gambling market will be subject to over-regulation, which will slow down growth.
While the Bitcoin currency/commodity's value in relation to fiat currency will continue to go up and down like a DVD of Deep Throat on fast forward, 2014 will see some major online gambling operator take the bold step by listing Bitcoin as a routine option for deposits and withdrawals.
SEXY INNOVATIONS
Casino has been unloved in recent years from an innovation standpoint, but I know the Bodog crew are hard at work on some new games set to be unveiled in 2014 that they hope will put casino back on the map in the same way their anonymous tables disrupted the poker industry. I suspect they are not the only ones with skunkworks projects in the casino space, so look for some new things coming here.
But honestly, even if I did know the answer to this one, I wouldn't be publishing it. Clearly, this is the big opportunity every year and also almost impossible to predict. The industry is ripe for an innovation that represents the same kind of paradigm shift that poker wrought those many years ago. I remember participating in a conference panel back n 2007 and being asked what would be the coming year's poker. My answer? Poker will be the next poker, as this kind of phenomena is not going to happen often. It was as I predicted for a few years but we are all so past that now. Maybe someone this year can finally find a way to make a skill/luck hybrid multiplayer game that gets traction. Now that would be a paradigm shift!
POKER
Are poker networks dead? Networks are increasingly taking steps to segregate their weaker players – many of which are brought in via predominantly sports betting operators – from the predators who gain access to the pool via turnkey skins that do precious little in the way of marketing and thus act as a net drain on the network's ecology. These bottom-feeding skins are little more than super affiliates whose entire business model is built around poaching grinders from other skins via overly generous rakeback deals. Networks will continue to impose strict benchmarks for bringing new players to the table, but the majority of these skins have neither the skills nor the budget to market themselves to recreational players, meaning most of them will be forced to switch off their lights.
The decline of the poker pro as site spokesmodel will continue. The ability to dominate opponents on the felt is rarely coupled with the capacity to entertain the general public, which is why more and more sites are looking beyond the poker world for pitchmen (and women). Few people would put money on UFC champ Georges St-Pierre making a deep run into any poker tournament, but GSP is a highly likeable figure who people recognize as a live human being, not Jawa #12 from Star Wars who only takes off his Beats long enough to say 'I play on… [long pause as he/she checks logo on hoodie] … these guys, because… uh… well… give me a moment…'
And that's all, folks! Happy New Year and best wishes for a super 2014 to everyone in this crazy industry we all love. Remember, you only live once so go hard every single day!