There has been a lot of hype about the new online poker websites in Nevada, where the state has developed the first legalized, regulated iGaming offering in US history. Ultimate Poker, a subsidiary of Station Casinos, won the first-to-market race and went live on April 30. Last week, WSOP.com, owned by Caesars Entertainment and operated by 888 Holdings opened for business, putting a second competitor in the market.
While in Nevada for last week's Global Gaming Expo, I had the opportunity to access both sites, my first chance to play online poker since before Black Friday. I played online poker for several years, on sites including PartyPoker, PokerStars, and Full Tilt Poker. Sadly, my experience shows that the new US cardrooms have a long way to go to catch up to their international counterparts.
Ultimate Poker
Back in May, our own Lee Davy wondered if Ultimate Poker's rush to market would wind up costing the company in the long run. Noting what was then a 190-page thread (it is now far longer) on poker forum 2+2 about the operator's various deficiencies, Davy argued that "sacrificing quality in order to be the first into the market is going to be a mistake that will be magnified when their competitors push their products through the door." Four months later, UP still lacks a number of features. An August software update appeared to fix several bugs – notably complaints about significant lag caused by the animation associated with flop spreading – but Ultimate Poker remains more notable for the attributes it doesn't have, rather than the ones it does. One look at the lobby shows some of the site's missing features: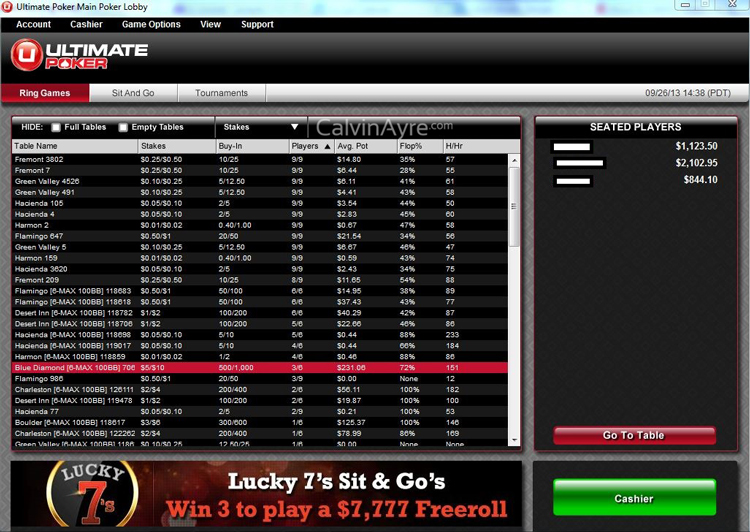 While the interface is clean and crisp, note what the "Ring Games" section lacks: any mention of specific games. Ultimate Poker only offers Texas hold 'em. There are limit tables (not shown in the image, but posted lower on the list) but in three different visits to the site I did not see a single limit game going.
Notice something else missing from the lobby: a column listing the number of players waiting for a table. That's because, amazingly, Ultimate still does not offer the option to join a waiting list for a full table. Note also the buy-in ranges on the site; 9-handed tables offer minimum buy-ins of 20 big blinds and maximums of just 50, well below the 100 BB levels normally offered by most online sites (and, indeed, nearly all live card rooms as well.) The 6-handed tables do have a higher range of 50-100 BB, preventing the "short stack" strategy used by some multi-tablers in the past.
As far as liquidity goes, the lobby shot above (again, taken around 2:30 pm on a Thursday) shows a few tables going. All told, there were 10 9-handed tables going, with stakes ranging from .01/.02 – .50/1    , and 5 6-handed tables with 5 or 6 players. Note that higher-limit tables were essentially empty: there was one 3-handed table at 5/10 and 2 players at a 6-handed 2/4 table. A look at liquidity at 2 am on a Saturday morning shows similar levels of play; at an off-peak time (6 am Friday), there were, total, just 3 9-handed tables and 2 six-handed tables in play.
The lack of table options would appear to make multi-table grinding difficult (as does, according to several complaints, some of the game play issues regarding notifications about actions on hidden tables, and an inability to resize tables, a feature that has since been added.) There were a few players multi-tabling four or five at a time, across a range of stakes. But the simple lack of tables would seem to make the professional or semi-pro grinding seen on Stars and elsewhere difficult, if not impossible.
Tournaments have similar liquidity challenges: a nightly $10 tournament averaged about 138 players from Thursday-Saturday, but beyond that tourney most multi-table tournaments are receiving 25-50 entries apiece, not enough to generate substantial prize pools. Indeed, the largest prize pool over the last three days (as of this writing) was a little over $3,000: a 33-person, $100 buy-in tourney with a first prize of $1,200. (The site does offer a $10,000 guaranteed tournament on Sundays; but bear in mind that PokerStars' Sunday guarantee is a million dollars, one hundred times as large.) Roughly a dozen sit 'n' go tournaments are running at a given time, with a good number of them heads-up tournaments; again, liquidity is far below what US players saw before Black Friday, and light years from supporting any sort of profitable grinding.
As far as game play goes, the reported lags caused by flop animation and other complaints seemed largely fixed during my brief time on the site. (I played about 70 hands on a Thursday afternoon.) The design of the tables was rather clean and easy to read, with the avatars reminiscent of Full Tilt:
Player stars are offered as well, though they are hardly comprehensive:

But again, Ultimate Gaming is missing some features. The site does not offer the ability to take notes on players; on the aforementioned 2+2 thread UG representative 'Dax' wrote that the operator did intend to offer player notes in the future. But he argued that "building the ability to write/read player notes files is non-trivial and takes time." The slider bar (not shown) is not easy to use, and inconsistent in its application; sometimes, single-clicking the bar moves the bet up one big blind, while other times it raised the bet 2 big blinds. Players who regularly use the site no doubt will get accustomed to the process – or just type the bet in – but I did have some delays in properly entering the amount I wanted to bet. Hand histories are available through the lobby, but not directly through the table; unlike many other sites, hand histories do not show the hands of opponents which are shown down but not displayed on the digital table. (Heads-up displays, or HUDs, are not yet supported; whether or not they will be appears to remain an open question. According to a report from Chris Grove at onlinepokerreport.com, a UG product manager tweeted in June asking for feedback about whether HUD software should be supported. But Grove also pointed out that there is real question about whether Nevada law would allow the use of HUD or other poker tracking software.) It does not appear, however, that hand histories can be downloaded through the site, and the histories displayed do not show starting stack sizes.
As far as the games themselves, they appeared relatively similar in terms of skill to ring games played on Stars and Tilt in 2010 or 2011. Even at a 6-handed .05/.10 table I played at, the players seemed rather tight, with aggressiveness seen from the button from 5 of the 6 players. (The exception was a rather standard, somewhat weak single-tabling customer, hardly a rarity at those levels.) At a .05/1 table, the action looked no different from the grinder-dominated games I played on other sites; indeed, on the one big hand I played, the opponent semi-bluffed the flop with an open-ended straight draw and called an admittedly small – again, due to the 50 BB limit – re-shove. (Happily, my two pair held up.) Looking at figures from the UG lobby on the percentage of players who see a flop, they do seem higher – regularly in the 30-40% range – than those I recall seeing pre-Black Friday. But that may be a measurement issue; the UG games, both those I played in and those I observed, seemed no more loose than the difficult, grinder- and HUD-dominated games seen in my later Tilt/Stars days.
Depositing was quick and painless; the process was simple, the deposit (via my checking account) was instant. I needed to reply to a text message to further prove my location within Nevada's borders; it arrived via seconds. (Reports after Ultimate Gaming's initial launch noted that the company had not made an agreement with Verizon to contact its customers; that issue appears to have been resolved, as Verizon is my cell phone provider.) But, disappointingly, one more issue for Ultimate Gaming arose after I left the site: the company only provides cashouts through the mail. The site estimated that processing would take three business days, though it cautioned the entire process could take up to 20 business days (nearly an entire calendar month.) Less than 48 hours after my cashout request, I received an email from Ultimate informing me that the cashout had been processed, and that a physical check would be mailed within the next two days. All told, my cashout will probably take about a week, longer than required for the electronic withdrawals allowed through Stars and Tilt (in Tilt's case, at least before Black Friday.) 
All told, Ultimate Poker is well behind existing poker sites in terms of features and liquidity. To be fair, the company has publicly admitted that its feature set was lagging, arguing that getting the first mover advantage was a priority, and allowed them to develop this site according to the needs of the customer base. In addition, the company is under the microscope a bit as the first legalized US operator; as CEO Tobin Prior said at a G2E session last week, "the largest challenge was making the technology do what the regulators wanted it to do." The company may have satisfied those regulators; but it still has a long way to go in pleasing its customers.
WSOP.com
I can say this for Ultimate, however: at least they took my money. I was unable to deposit any cash at all at WSOP.com, for reasons that remain unclear. A first deposit through my checking account received a message that it was "in process"; a message that remained for several days. A support representative reached through chat could not figure out what the issue was; my case was forwarded to the appropriate department, though I have not heard back. Two credit card attempts – one with a debit MasterCard, one with a credit Visa – failed as well. In both cases, an automated email said "the transaction was declined by your bank." Yet given the fact that the two cards were issued by different banks, and the fact that the checking deposit failed, it would appear WSOP.com's financial systems may have a glitch.
I was prompted to visit the chat support by repeated pop-up ads in the WSOP software offering a sign-up bonus. The company does not advertise such a bonus in its "Promotions" page, and with my deposit issues I was unable to find out what bonuses were available. Perhaps due to disorganization around the recent launch, two different representatives hinted at different requirements for the offer; one claimed a minimum deposit of $200 was needed, while another said it would take at least $400 initially to receive a bonus.
WSOP.com, perhaps owing to its later start date, and likely due to the use of software from 888, which is growing market share in Europe, offers many more features than Ultimate Gaming: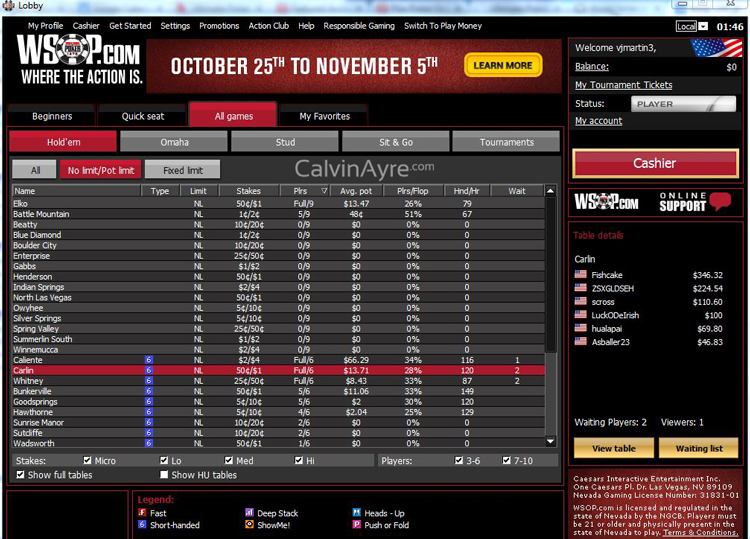 Pot-limit Omaha hi and limit Omaha high-lo ring games are offered, as is seven-card stud. The lobby design is simple and easy to use. Meanwhile, WSOP.com does support waiting lists. The problem, however, is that the waiting lists are necessary because they are so few tables going. The picture above, to be fair, was taken around 2 am on a Thursday morning, but just one 9-handed table and three 6-handed tables are filled up. Total, there are only 50 seats filled on the ring games; accounting for a number of multi-players, there were roughly 40 players total playing ring games on the site at that time.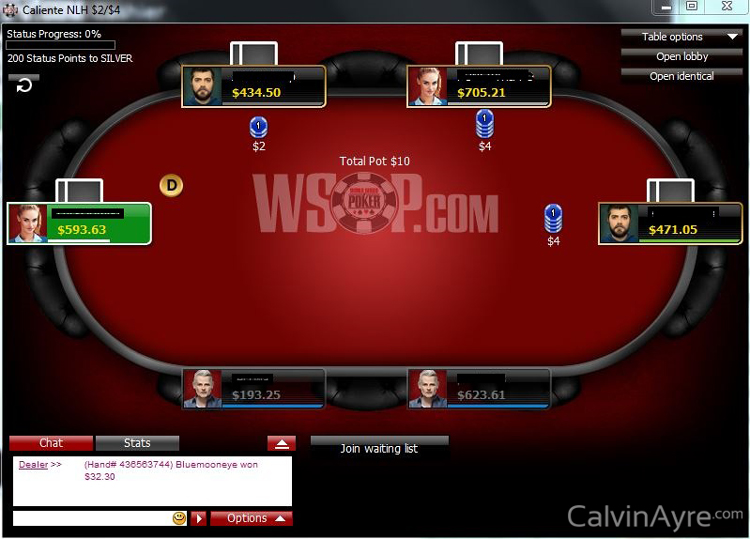 The Caesars site offers more in-game features as well. While WSOP.com doesn't have the same avatars available at Ultimate, it does offer the ability to join the waiting list both from the table as well as the lobby. And, notably, players can take notes on opponents, with a color-coded system supplied by the software to label other players based on their habits.
But liquidity remains a key problem for the site. Later that day, around 2 pm, visitation had not improved much: there were 2 9-handed no-limit games (both with stakes of .10/.20), 2 6-handed games (both $1/$2), and 2 Omaha tables going. (There were also 3 players at a 1/2 NLH table and 2 players at a 2/4 table.) Exactly one sit 'n go – with a $5.50 buy-in – was running. Mid-afternoon multi-table tournaments drew limited interest; a $2.20 MTT attracted 28 entries, while a $1.10 MTT attracted just 13. The total prize pool for both tourneys was roughly $70.
Liquidity issues became even more pronounced at off-peak times…at 6 am on a Friday morning, there were just six players on the entire site, 5 of them at a single cash table. Caesars is likely looking to its WSOP .com Online Championships next month, which will have a total of $500,000 in added money, to attract new players. If WSOP.com can use that tournament to boost its liquidity, its far-stronger feature set may make it the preferred operator in Nevada. Yet, so far, that is damning with faint praise.