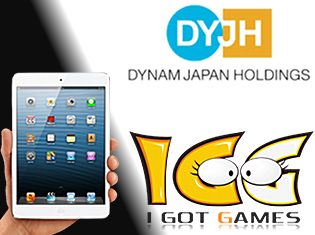 Japanese pachinko firm Dynam Japan Holdings Co. Ltd. is teaming with an online gaming company with an eye toward bringing mobile gambling to Macau casinos. In October, the Hong Kong-listed Dynam filed papers stating its intention to invest $15m in Singapore-based online games firm I Got Games (IGG) to help develop "next generation" pachinko machines for use in Macau. In a new filing this month, Dynam said the partnership also intended to produce "online casino games in Macau, provided that such games comply with all applicable laws and regulations of Macau."
In November 2012, Macau amended its slot machine regulations to include a provision that would allow gambling on mobile devices "inside gambling areas especially authorized" for said purpose. To date, no operators have actually launched such a service, although some analysts expect local sports betting monopoly Macau Slot to be the first to take the mobile plunge, given that its operations wouldn't compete with the casinos' traditional gambling offering.
Neither Dynam nor IGG have shed any further light on the specifics of their plans, including what type of products they might offer or whether they've discussed their intentions with Macau gaming regulators. IGG's most recent quarterly financial statement showed revenue of $22.5m, more than double the figure from the same period a year earlier, while recording a quarterly profit of $5m compared to a $4.25m loss in Q3 2012.
Dynam currently operates around 360 pachinko arcades in Japan with plans to open a further 85 over the next year or so. Dynam also plans to be among the firms vying for one of those lucrative Japanese resort-casino concessions when legislators finally pass their long awaited casino bill. Company chairman Yoji Sato has stated that Dynam expects to team with a Macau casino firm on any Japanese joint venture. In September, Dynam struck a five-year deal with Macau Legend Development to install 100+ pachinko machines at the revamped Fisherman's Wharf casino when it opens in 2014.