The Galfond Challenge has been one of the highlights of poker so far in 2020, and it's only been the first match. Sadly for poker fans, they may have got all they are going to from the Phil Galfond vs. VeniVidi clash that has seen the Run It Once owner lose €900,000 in just 15 sessions.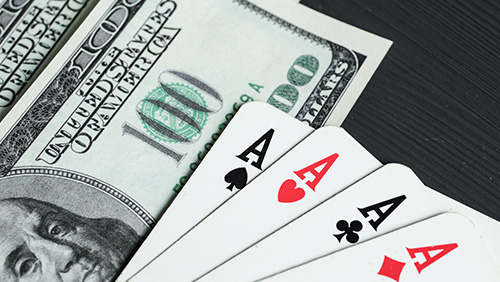 After a disastrous run which has yielded just one profitable day, Galfond took to Twitter to explain why he's hanging up his mouse for at least the foreseeable few days.
Here's his statement in full:
"As I mentioned in my last downswing post, a big consideration during any downswing is when it's time to give up and play elsewhere, as is figuring out when it's time to take a break and regroup.
Up until a few days ago, I was very proud of the way I'd handled a very unfortunate run. I think that I played well and remained as level-headed as can be expected.
After a seemingly endless string of losing days, I managed to find a winning one. I won €88K over a session where I felt great about my play (which had been true for some losing days as well. I got a taste of the downswing ending, and I was excited about the future.
That was followed by my biggest loss yet — €268K. I felt some tilt during that session, but managed to play my B game. Again, I was proud of myself considering the circumstances. The last two days, unfortunately, I can't say the same thing. In my last couple of sessions, I could tell that I'd abandoned my gameplan for plays that felt better (emotionally), and I couldn't seem to gather my thoughts coherently, or to make reads like I normally do.
I was playing scared. I was expecting to lose. I simply couldn't get my brain to work properly. The most difficult thing about an extended downswing isn't the loss of money — it's the loss of hope. It's the gap between the result and your expectations, and how it changes your vision of your poker future. For example, I've lost €900K, but when comparing my expectation for how this year would go to my new expectations, I've lost much more. For some people, they question whether or not they'll be able to ever win again.
I'd kept my composure through loss after loss, focusing just on playing the best I could. When I experienced a winning day, I started to believe in my high hopes about the future of the challenge. (Remember from my last post, right or wrong, I'd felt like I had an edge and that things were reasonably likely to turn around). Afterwards, I was quickly and forcefully shown that it wasn't going to happen.
I lost that hope, and it was replaced by depression. I'm proud of the way I kept it together for so long, but I found my mind's limit.
I've experienced downswings of this size before, but this is the first time that one has begun precisely as I kicked off a high stakes, public challenge that I was incredibly excited about. I don't really know whether it was the gained and lost hope, fatigue from day after day of intense poker and study, or something else, but I know that I've become unable to play my A or B game.
Regardless of where we stood at the start of the match, I'm confident that my C game a big underdog to Venividi's A game (I think we can all agree on that :)), and I don't believe I can realistically expect to get back to playing my best soon.
I took my one allotted day off yesterday to think things over. I've been seriously considering throwing in the towel on this first challenge, accepting defeat, and taking a break to reset my mind before heading into the next ones. The idea feels awful to me, but so does continuing to play poorly against a really good opponent.
What I've decided to do for now is to see if I can get my head on straight before making a big decision like that. VeniVidi and I only had six more challenge sessions this month, ending on the 19th, due to travel plans (I planned to play part of another challenge at the end of the month, which I still hope to do.) I'm going to pay the predetermined penalties to not play these sessions (roughly €3K/day).
Once I can get my brain working again after a little bit of recovery, I'll decide whether I feel ready to continue on March 1, or if it's time to regroup and move on to another challenge.
I've had a session win/loss record of 1-12-2 over these first 15 days of play. I know it was been hard for some of you to watch! I hope I feel prepared to come back and put on a good show for you all, but I know that realistically, as much as I don't want to, there's a chance I'll have to just take the loss.
Thanks to everyone who's been a part of the challenge and to everyone who's been watching, creating content, and talking about the match. I'm sorry for the little break in the action here, but I promise that either way, there will be plenty of challenge play ahead."
As you might expect, the outpouring of support for the tweet has been extraordinary, even by poker social media standards.
Unfortunately, my downswing in the first #GalfondChallenge has very much continued.

I'm taking a step back to do some thinking. Here's an update, along with some more of my thoughts: pic.twitter.com/jIcN4Bc1Jz

— Phil Galfond (@PhilGalfond) February 11, 2020
Plenty of love has come from fellow pros and others who understand what it takes to show this sort of strength in the face of adversity. David Tuchman was just one example of players reaching out to Galfond to praise him for how he's dealt with such a devastating loss.
It is in these moments, a person's true character is exposed.

You are an inspiration to anyone who's ever tried something daring, to anyone who's jumped off a cliff.

— David Tuchman (@TuckonSports) February 12, 2020
Galfond's next opponent after VeniVidi – whether he completes the first challenge or not – is Bill Perkins, who one fan suggested Galfond might win some of his losses back from. The author of Die With Zero was quick to quell any suggestion that he'll be taking it easy on Galfond.
Wishful thinking, I'm not fucking around Hector!!!

— Bill Perkins (Guy) (@bp22) February 12, 2020
If you want to watch any of the action so far that led to this decision, then you can check out the Run It Once Twitch stream.
Galfond may not be taking to the tables in the next few days, but how the Galfond Challenge story ends could be a defining moment for poker. Can Galfond get back into it and salvage any sort of comeback after potentially ending his involvement in the first challenge when €900,000 in the red?
How Galfond – or the Galfonds, with Phil's wife Farah being supportive throughout – have dealt with the start of the Galfond Challenge has been amazing, and shows how positive energy can be the best weapon a poker player ever has. While VeniVidi is the biggest winner from Challenge #1, it also feels like we've all gained something as poker fans – perspective. If nothing else, any downswing a player suffers is likely to pale in comparison to 'pulling a Galfond against VeniVidi' as the first match of his self-titled challenge is likely to be referred to forever.
True legends show their class when the chips are down, and when they're down almost a million, that's some class.