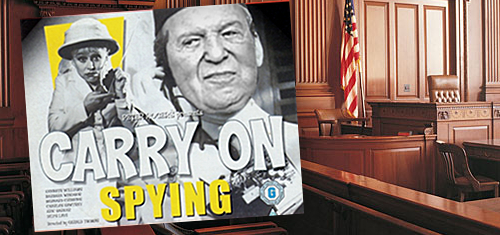 Was Las Vegas Sands chairman Sheldon Adelson's recent purchase of the Las Vegas Review-Journal newspaper intended to help the casino mogul dig up dirt on a local judge?
On Friday, the LVRJ printed a lengthy article detailing a strange assignment its reporters were handed six weeks before the delayed announcement/admission that Adelson was the paper's mystery buyer.
The LVRJ said that in the first week of November, three of its reporters were given marching orders from Gatehouse Media, the newspaper's corporate management (which continues to manage the paper post-sale). The orders were to "drop everything" and spend the next two weeks monitoring the activity of three Clark County judges.
The three jurists included District Judge Elizabeth Gonzalez, who is handling the wrongful termination suit brought against Adelson and Las Vegas Sands by former Sands China CEO Steve Jacobs. Gonzalez has made some rulings in that case that favored Jacobs – not to mention fining Sands $250k for monkeying with evidence – and who personally chastised Adelson for not listening to her instructions when the Sands chairman took the stand this spring.
The LVRJ staff said they didn't understand the point of monitoring the judges. Deputy Editor James Wright wrote a memo noting that Gatehouse had provided nothing in the way of explanation and that the exercise was being conducted over the objection of the paper's editorial managers. According to Wright: "we've simply been told we must do it, and it must start on Tuesday."
The memo said the journalists were to study how engaged each judge was in their cases, whether they were prepared for court, if they favored one attorney over another, if they appeared over- or under-worked and whether or not they showed up for work on time. The journalists ended up writing 15k words on their subjects, none of which made it into the paper.
But on Nov. 30, Judge Gonzalez was singled out for scorn in an article in the New Britain Herald, a small Connecticut newspaper operated by Central Connecticut Communications, which is owned by Michael Schroeder, who also runs News + Media Capital Group, the company through which Adelson purchased the LVRJ. (Schroeder infamously told the LVRJ staff not to worry about who now owned their paper.)
The New Britain Herald article savaged Gonzalez for her "inconsistent and even contradictory" handling of the Jacobs case as well as another case involving Wynn Resorts chairman (and Adelson BFF) Steve Wynn. The article went on to say her work "undermines the rationale for the creation of such [business] courts in the first place."
The article is credited to an Edward Clarkin, who appears to be the Keyzer Soze of the Connecticut media community, in that no one seems to have any recollection of him working at the paper or knows his current whereabouts.
Michael Reed, the CEO of Gatehouse Media's parent company New Media Investment Corp, claimed the judge monitoring was part of a "multistate, multinewsroom" investigation but couldn't say who came up with the idea or signed off on the plan. Reed also told an LVRJ reporter that the questions he was asking were "trying to create a story where there isn't one."