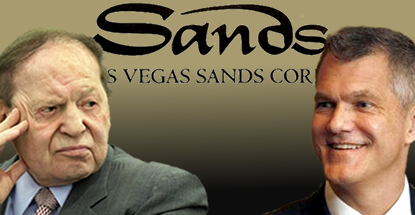 Casino operator Las Vegas Sands has been ordered to pay a $250k penalty for redacting documents related to an ongoing court case.
District Judge Elizabeth Gonzalez levied the penalty after determining that Sands had willfully violated her order to turn over documents relating to the wrongful termination suit brought by Steve Jacobs (pictured on the right), the former CEO of Sands China. Jacobs was unceremoniously dismissed in 2010 and the two parties have been locked in a bitter legal tussle ever since.
Sands had previously claimed it couldn't produce the documents because Macau privacy laws prohibited the exportation of data from the special administrative region. This excuse rang hollow after the court learned that Sands itself had exported the same data to the US so its Nevada-based attorneys could check it over (a process that cost Sands $2.4m in legal fees). When Sands did turn over the data, about 7,900 of the 100k emails and other files had been redacted.
In her ruling on Friday, Gonzalez ordered Sands to turn over the documents free of redactions. Sands must also pay Jacobs' significant court costs relating to the "needless" document squabble. Not that this will satisfy Jacobs or his attorney Todd Bice, who had previously warned Gonzalez that the filthy rich Sands' plan was to "spend us all into the grave."
Still to be decided is the question of whether the Nevada courts have jurisdiction to decide a matter relating to Sands China. Jacobs has alleged that Sands China's decision making was ultimately subject to approval by its parent company in Nevada.
Jacobs says he was sacked for objecting to Sands' alleged efforts to dig up dirt on Macau public officials for use as leverage in future negotiations. Jacobs also claims that he objected to a "prostitution strategy" personally endorsed by Sands boss Sheldon Adelson, a claim that Adelson and Sands have vehemently denied.
SANDS CHINA TO CURTAIL NON-ASIAN ENTERTAINMENT?
In related news, Sands China is reportedly considering tempering its use of big-ticket non-gaming events at its Macau properties. A source told Bloomberg that these events – including a heavily publicized March 2014 concert by the Rolling Stones – tended to attract Hong Kong-based Westerners, who then left Macau after the event's conclusion, rather than stay overnight in a Sands hotel room and gamble at a Sands casino.
As such, Sands has reportedly decided to focus its non-gaming entertainment on performers more likely to attract mainland Chinese tourists, such as actor/comedian Dayo Wong, who has already played four shows at the Venetian Macao's Cotai Arena.
On Thursday, Sands president Rob Goldstein told analysts that the company planned to "reexamine" its marketing and entertainment budget. Without offering specifics, Goldstein said the goal was to find ways to run the department "cleaner and better." Macau is currently mired in a nine-months-and-counting revenue slump, with February's numbers falling 49% to levels not seen since 2011.