The nasty legal fight between Las Vegas Sands (LVS) and Steve Jacobs, the former CEO of Sands China, has ratcheted up another notch after Jacobs accused LVS boss Sheldon Adelson of ordering Jacobs to threaten the head of Macau's government for not playing ball. It's the latest clump of mud Jacobs has hurled at LVS since he was unceremoniously dismissed from Sands China in 2010, leading Jacobs to launch a wrongful termination suit.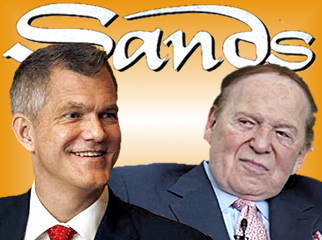 Jacobs' allegations, which were made in a Feb. 15 Nevada District Court filing viewed by the Wall Street Journal, are that Adelson became "enraged" several years back after then Macau Chief Executive Edmund Ho made decisions that conflicted with LVS' desire to sell a block of Four Seasons-branded luxury condos adjacent to the Venetian Macau. (It was previously alleged that a high-ranking official in Beijing was soliciting a $300m bribe from LVS to help solve the condo matter and other pesky legal entanglements.) Jacobs claims Adelson ordered him to remind Ho that Adelson had "settled a lawsuit paying $40m" to protect Mr. Ho and thus Ho "owed Adelson." Jacobs claims he never followed through on Adelson's order, deeming it "improper," and alerted LVS COO Mike Leven as to Adelson's instructions.
The lawsuit Adelson was allegedly referencing involved three men – Clive Basset Jones, Dax Turok and Cliff Cheong – who'd sued LVS for allegedly breaching an agreement to pay the men a 'success fee' for helping LVS enter the Macau market. In 2009, LVS agreed to pay the men $42.5m before the case could go to trial. This is a separate matter from the lawsuit filed against LVS by Richard Suen, who also seeks payment for smoothing LVS' path into Macau. That trial is set to get underway April 3 in Nevada.
Jacobs' filing didn't elaborate on any specific threats Adelson wanted Jacobs to make to Ho, nor how Mr. Ho stood to benefit from LVS settling its lawsuit with the three men. Adelson and Leven have denied Jacobs' allegations, calling them "uncorroborated lies." Adelson issued a statement saying he held Ho "in the highest regard" and knew of "no wrongdoing on Mr. Ho's part." LVS spokesman Ron Reese said Jacobs had proven "he'll do anything and say anything in his effort to smear [LVS]." True or not, the timing of Jacobs' allegations is unfortunate, given LVS' recent admission that its past dealings with mainland Chinese officials had "likely" violated the record-keeping provisions of the Foreign Corrupt Practices Act (FCPA).
Comments