Sands China, Las Vegas Sands' stupidly successful operation in Macau, is under investigation by the Hong Kong Securities and Futures Commission (SFC) for "alleged breaches of the provisions of the Securities and Futures Ordinance." All Sands China will say at this point is that the SFC has asked to see certain documents. Observers believe that the probe stems from requests for information made by the Securities and Exchange Commission (SEC), the Department of Justice (DOJ) and/or the FBI, all of whom are conducting their own investigations of Las Vegas Sands over possible violations of the anti-bribery Foreign Corrupt Practices Act.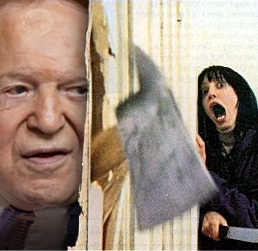 While all this might make Las Vegas Sands look like the Death Star at the end of the first Star Wars movie, Credit Suisse analyst Gabriel Chan told Reuters that it's really no big deal, especially "if it's just Steve Jacobs again." Ah, yes… Jacobs. Or 'the root of all evil,' as Sands bigwigs likely describe him. Jacobs took over as CEO of Sands China in 2009, when Las Vegas Sands' fortunes were near an all-time low. By early 2010, COO Michael Leven was publicly crediting Jacobs with turning Sands' fortunes around. "[Jacobs] arrived and not only saved the passengers, he saved the ship." But the love didn't last, particularly between Jacobs and Las Vegas Sands CEO/Chairman Sheldon Adelson. Jacobs was abruptly fired in July 2010 — escorted by security to the door, and then (as he alleges) outside city limits.
In October, Jacobs filed a wrongful termination suit, in which he claimed to have been fired over his reluctance to do more business with Macau's junket operators, as Adelson allegedly wanted. (Jacobs claims to have retained a copy of an internal background check Sands performed on a prominent junket operator linked to a Macau triad, prompting demands from Sands for the immediate return of their private property.) Jacobs also alleges that Adelson wanted him to fish around for "negative information" on senior Macau officials that could be used as 'leverage' to defeat future regulations they might not fancy. Finally, Jacobs says Sands kept a Macau official on their payroll for over a year. This last charge is apparently what sparked the US probes.
Sands filed their own suit against Jacobs in January. In a statement provided to the Wall Street Journal, Adelson called Jacobs' allegations "pure threatening, blackmailing and extortion." Adelson claims there is "a substantial list of reasons" why Jacobs was given the boot, and that instead of refuting them, Jacobs was issuing "outright lies and fabrications which seem to have their origins in delusion." Since that statement was issued, Jacobs has amended his lawsuit to include a defamation charge against Adelson.
The tone of Adelson's statement would not have come as a shock to the US diplomat who referenced Sands China's "combative" attitude in a US State Department cable obtained by Wikileaks. So let's sum up: Adelson is (a) spoiling for a fight and (b) stupidly rich. Those two alone would be bad enough, but throw this into the mix: Adelson is backing Newt Gingrich for the Republican presidential nomination in 2012. Newt Gingrich, for fuck's sake. Jacobs must be 110% convinced that he's got Adelson dead to rights, because there's no other rational justification for needlessly antagonizing a rich, combative, crazy man.