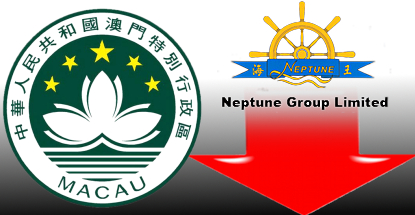 Macau casino gambling revenue tumbled 48.6% to MOP 19.5b (US $2.44b) in February, the ninth straight month of revenue decline in the world's top gambling hub.
Year-on-year comparisons were always going to be dodgy, given that February 2014's MOP 38b figure was Macau's all-time peak month. But this February's decline marked the lowest monthly total since 2011 and the single biggest year-on-year decline since Macau began issuing public stats on its gambling revenue over a decade ago. Still, analysts had feared the decline could hit 53.5%, so, er, yay?
February's decline is doubly depressing given the bump that casino revenue traditionally receives from Lunar New Year celebrations. But the Macau Government Tourist Office reported that new year visitor levels fell 2.4% from 2014 and average occupancy rates in the crucial Feb. 18-24 period fell nearly seven points to 87.5%.
VIP gamblers tend to give Macau a wide berth during the new year celebrations in order to avoid crowds. While exact details won't be released until later this month, Wells Fargo Securities suggested VIP revenue declined 56% in February while mass market revenue fell by one-third.
NEPTUNE OPTIMISTIC DESPITE TWO YEARS OF DECLINE
Further evidence of the increasing paucity of Macau VIP gamblers was revealed in junket operator Neptune Group's H1 profits, which fell 17.3% to HKD 292.6m ($37.7m) in the six months ending Dec. 31. The company, which controls an estimated 15% of Macau's VIP gaming market, said the decline was "more disappointing than we expected" and that Macau's VIP gambling slump was "worse than we first anticipated it as an intermittent pattern."
Neptune warned that unless the situation reversed itself soon, "it may deter some investors from investing in new capital and expansion in this industry." Junket operators are already facing a liquidity crunch due to Beijing's crackdown on corruption, visa restrictions and other factors that resulted in 34 junket operators closing their doors in 2014.
While Neptune acknowledged that this was its second year in a row of declining revenue, it remains 'cautiously optimistic" about Macau's gaming industry. Neptune suggested that rumors about new casino projects on Cotai being permitted fewer gaming tables than they'd anticipated might not be such a bad thing "given the current under-utilization of tables."