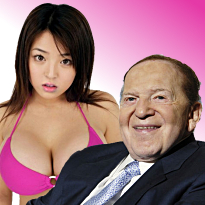 Wynn Resorts has scored the latest point in the titanic legal tiff with its former number one shareholder, Universal Entertainment chairman Kazuo Okada. Okada is seeking to compel Wynn to cough up internal documents – specifically, the ones relating to Wynn's $135m donation to the University of Macau, which Okada believes had less to do with charity and more to do with garnering favorable treatment from Macau gaming regulators. But on Thursday, Clark County District Court Judge Elizabeth Gonzalez ruled that Okada must travel to Las Vegas to make a deposition in the case, rather than have Wynn's legal eagles fly to Okada's Hong Kong headquarters at their expense (as Okada had requested). Okada has not indicated whether he'll come to Nevada for the deposition, as that would allow Wynn attorneys to serve him with papers relating to a separate legal action designed to formally oust him from Wynn's board and validate the forced redemption of Okada's sizable Wynn holdings at a 30% discount.
Thursday also saw Judge Gonzalez addressing new developments in the wrongful termination suit brought against Las Vegas Sands by Steve Jacobs, the former president of Sands China. Gonzalez was critical of Sands for apparently fibbing about the location of documents for which Jacobs had requested access. Sands attorneys had previously stated that the requested emails and files were in Macau and couldn't be brought to the US because they were covered under Macau's Personal Data Protection Act. But this week it was revealed that the hard drive on which the data resided had actually been in Las Vegas since 2010. Gonzalez has scheduled a July hearing to allow Sands attorneys to concoct a better excuse for the delay this "mistake" has caused the proceedings.
In perhaps less pivotal but infinitely more salacious developments, documents filed Wednesday by Jacobs' attorneys allege that Sands supremo Sheldon Adelson (pictured above not dressed in pink) had taken issue with Jacobs' efforts to remove prostitutes from Sands' Macau properties. Jacobs claimed he launched Project Clean Sweep in May 2009 to get the ho's out of the casinos, only to have other Sands execs express "concern" because "the prior prostitution strategy had been personally approved" by Adelson. Perhaps tellingly, Jacobs failed to specify the nature of this prior strategy, but regardless, irate Sands attorneys called the allegations "false" and "scurrilous." The company subsequently issued a statement describing Jacobs' claims as "a blatant and reprehensible personal attack on Mr. Adelson's character." For the record, Jacobs was fired in July 2010, five months before Macau cops busted 110 hookers at the Venetian Macau on the same day that Adelson arrived in town. Could the ho's have been planning a blatant personal attack on Sheldon's libido? We sincerely hope the answer to this question is on that hard drive.
Comments