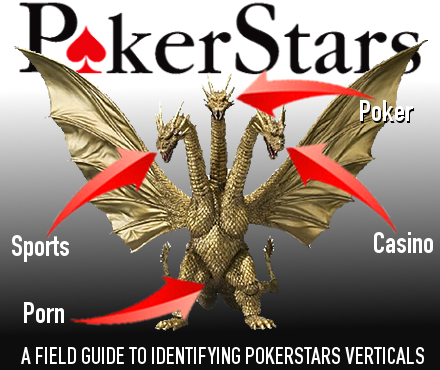 1. POKERSTARS EXPANDS BEYOND POKER
Amaya Gaming's acquisition of the Rational Group was ostensibly a prominent North American story but its most immediate impact was the depressing effect on the share prices of some UK-listed online gambling operators.
In plans that predated its acquisition by Amaya, PokerStars launched blackjack and roulette products on its Spanish-facing site. (Rational's 'B' brand Full Tilt beat Stars to the punch, rolling out its own casino products in January.) Within six weeks of its Spanish casino launch, Amaya reported that Stars had managed to snag a "double-digit" percentage of the country's regulated online casino market.
PokerStars has since vowed to roll out casino options to all markets served by its .com operation and to further diversify into sports betting in 2015. Stars' evolution into a full-spectrum online gambling operator has no doubt given other operators more than a few sleepless nights. Many of these operators are already operating on razor-thin margins in dot-country markets. These margins could evaporate entirely if Stars' poker players no longer have to leave the mothership to satisfy their casino or sports betting urges.
2. UK LICENSING CHANGES
The UK introduced its controversial new licensing regime in November, requiring all UK-facing operators to hold licenses issued by the UK Gambling Commission. The law withstood a legal challenge by the Gibraltar Betting and Gaming Association, although the GBGA was granted judicial review over the equally controversial 15% point of consumption tax in early December. The changes are expected to weigh heavily on the balance sheets of UK-facing operators who had shifted their online operations to tax-friendly jurisdictions like Gibraltar.
The months preceding the new regime's introduction featured a flurry of operators either withdrawing from the market entirely or closing their UK-facing poker rooms (due to specific regulations applying to online poker networks and their intermingling with non-UK-licensed operators). The departing companies included some operators who had acquired UK-approved 'white list' licenses for the sole purpose of striking marketing deals with Premier League football clubs.
Those operators with a significant retail presence like William Hill and Ladbrokes will also have to deal with the tax on fixed-odds betting terminals rising from 20% to 25%, which will take effect March 1. Suffice it to say, there will be blood.
3. FACEBOOK UNFRIENDS REAL-MONEY GAMBLING
The great social media real-money gambling experiment came off the rails this year, as Paddy Power, 888 Holdings and Gamesys all yanked their underperforming real-money Facebook apps. Studies had already hinted that social gamers had little interest in risking real money on their virtual play but we guess it's like that thing where your waiter warns you that your plate is hot, and yet you feel the need to touch it to make sure.
4. BWIN.PARTY HITS BWOTTOM
Three years after the marriage of Bwin and PartyGaming, the combined entity's shares sunk to as low as 80p, barely one-third of its IPO price. The much-anticipated revamp of PartyPoker proved a complete bust and the company's sportsbook barely nudged upward despite a World Cup summer that gave significant lift to Bwin.party's UK-listed competitors.
The only real bright area came from New Jersey's regulated online gambling market, where Bwin.party's tie-up with the Borgata casino is the established market leader. But since the overall New Jersey market has performed below expectations, Bwin.party's triumph is analogous to winning an 'ugly dog' competition and the company expects to lose €10m on its New Jersey site this year.
The company found itself under siege this year from activist investor Jason Ader, who engaged in a very public shaming campaign listing all of management's missteps. Ader's pressure eventually succeeded in forcing a senior executive shakeup, with Bwin co-founder Manfred Bodner walking the plank.
In August, CEO Norbert Teufelberger, who inexplicably received a nearly £2m performance bonus in April, publicly admitted the company was in need of "fundamental changes" if it was to remain an ongoing concern. Rumors have since swirled of one or more companies kicking Bwin.party's tires ahead of a potential acquisition or the breakup of the company into more easily digestible bits. Two days before the New Year, Bwin.party announced it was preparing to sell its social gaming division Win, which was on track to lose €7m in 2014.
5. BETFAIR'S REBOUND
It took four years, but betting exchange Betfair finally regained the share value it held on the day of its initial public offering. The changes instituted over the past few years by new CEO Breon Corcoran – withdrawal from a number of lucrative grey- and black-markets, significant staff reductions and a new emphasis on fixed-odds sports betting – were strong medicine but the cure appears to have worked.
The year wasn't universally positive, as Betfair was forced to close its New Jersey online poker site, which had difficulty filling a single table with players. But the company closed out the year by returning £200m cash to shareholders, which by anyone's definition is a pretty decent Christmas present.
6. CEO TURNOVER
The year saw an unusually high churn rate in the corner offices of online gambling companies. Rank Group got the ball rolling as Henry Birch succeeded Ian Burke. Then William Hill's longtime captain Ralph Topping turned the helm over to James Henderson. Betfred installed John Haddock as CEO after doing without one for two years. Paddy Power asked Andy McCue to fill Patrick Kennedy's shoes and it took two people to fill the hole after 888 Holdings' Brian Mattingley moved to the chairman's chair. In December, Ladbrokes' Richard Glynn bowed to the inevitable and announced he'd step down in April 2015.
Things were similarly unsettled on the continent, as Cherry AB, Mr Green, Française des Jeux, Pari-Mutuel Urbain and Fortuna all cut new keys to the executive washroom. The chaos extended down under, where Echo Entertainment's John Redmond quit while Tom Waterhouse was named new CEO of William Hill Australia. In America, new CEOs were all the rage at Churchill Downs Inc., Affinity Gaming, Betfair US and Foxwoods Resort Casino.
And yet, somehow, Teufelberger endures…
7. GERMAN SPORTS BETTING
This was the most significant non-story of 2014. After an application process that made Frodo's journey to Mordor look like a walk in the park, Germany finally handed out its 20 federal online sports betting licenses. Trouble is, those operators who failed to make the cut immediately launched a legal challenge of both the convoluted licensing process and the artificial cap on the number of licenses. Bottom line, nothing changed and the myth of German efficiency was efficiently debunked.
8. INTERTAIN'S AMAYA-INSPIRED ACQUISITON SPREE
It's fitting that Intertain's first major business deal was to acquire the B2C gaming operations of Amaya's Cryptologic software division. Since then, Intertain has followed the Amaya playbook to a T, using capital reserves of mysterious origin to acquire companies much bigger than itself, like UK-facing bingo operator Manadalay Games and Nordic-facing betting operator Vera&John. Late in the year, Intertain was said to be talking with Gamesys about acquiring some or all of its operations. Tune in next year, when the student becomes the master and Intertain makes a play to acquire Amaya.
9. 666BET'S DEMONIC DEBUT
Like Intertain, 666Bet's arrival on the scene was abrupt and noisy. 666Bet immediately made a name for itself by collecting Premier League betting partnerships like Bwin.party collects profit warnings. Also like Intertain, 666Bet got into the acquisition game, adding the MetroPlay online casino brand to its bag of tricks in September. Wait till next year when they'll likely convince Iron Maiden to appear in an advert performing 666: The Number of the Bets.
Comments