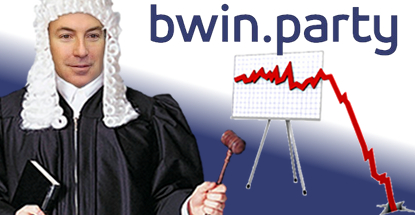 Activist investor Jason Ader has laid out his case for why Bwin.party digital entertainment investors should approve his choices for new blood on the struggling online gambling company's board of directors. Ader, whose SpringOwl investment vehicle owns 5.2% of Bwin.party, has proposed four potential additions to the Bwin.party board, choices the company's present management has advised shareholders to reject.
Ader recently launched the Savebwinparty.com website to allow him to detail his dissatisfaction with the company's existing strategy. On Monday, the site posted a 37-page overview of how the company got into its current state and what changes Ader believes are required to put the company back on the road to profitability. In an echo of Calvin Ayre's May 2010 observation that the then independent Bwin and PartyGaming companies were about to engage in a "mutual destruction dance," Ader says he wants to bring an end to the "value destruction overseen by the incumbent Board."
NOW HOW MUCH WOULD YOU PAY?
Ader's ire focuses on the company's share price, which has fallen from a combined £3.10 in July 2010 (when Bwin and PartyGaming first confirmed their merger plans) to the merged entity's current price of £1.22. This 60.7% decline compares rather unfavorably with the 23.9% gain in the FTSE 100 over the same period. Meanwhile, the FTSE 250 is up 53.6%, 'Multi-Channel' operators like Ladbrokes, Paddy Power and William Hill are up 69% and 'Pure Play Online' companies like Betsson, Playtech, Unibet and 888 Holdings are up 154.1%.
VOLUME TO VALUE TO VINEGAR
In chronicling management's missteps, Bwin.party's decision to withdraw from 18 'grey' markets in early 2013 is singled out for particular scorn. Ader is fine with the concept of growing regulated market positions but believes "unregulated markets can continue to deliver higher margin cash flow, which can be re-invested into product and marketing to build share in regulated markets."
Ader suggests Bwin.party could continue to serve these grey markets under the cross border services principles of the Treaty on the Functioning of the European Union (TFEU). Bottom line, Bwin.party "should continue to operate in unregulated markets where it has visibility on the return on its marketing investment. This can be achieved with minimal overhead and a focus on marketing campaigns that yield fast payback."
LACK OF POKER STRATEGY
Bwin.party's termination of its contract with Poker Strategy in late 2012 is also called into question, given that Ader's peeps believe the affiliate was "contributing up to half of all new poker customers." Along with PartyPoker's "increasing the cost to the customer of some payment methodologies" and an overall reduction in poker marketing, Ader suggests Bwin.party management has been "pursuing a strategy without understanding either specific product concerns or the long term consequences of such a strategy."
U.S. OF NAY?
While Bwin.party has inked a prospective online poker deal in California in addition to its joint venture with MGM Resorts and Boyd Gaming in New Jersey, Ader notes that the company has inked "no further deals covering remaining U.S. states not covered by these partners." Ader recognizes that Bwin.party's New Jersey online gambling operation is currently the market leader, but its market share has shrunk every month since the November 2013 launch.
Ader acknowledges that the New Jersey market has been slow to grow given the ongoing difficulties with "technology and payment process issues," but says the four new directors he's nominated "are uniquely positioned to provide expertise on these matters in New Jersey AND other prospective U.S. markets. "
FAT PAYROLL, EVEN FATTER BONUSES
Ader also tears a strip off Bwin.party for failing to deliver on the merger's promised synergies. While Bwin.party management claims synergies from the merger have exceeded projections, Ader claims costs rose 3.1% between 2010 and 2012 while revenue fell 1.5%. Moreover, the cost reductions of €52m in 2013 have come from reductions in marketing spend, not increased synergies.
Ader said the two companies employed about 3,700 individuals pre-merger, but "conversations with industry participants" has led Ader to believe there are "close to 4,000 people employed either directly or indirectly" by Bwin.party. The current tech team alone is "close to 1,600 people – far in excess of any comparable organization" and is spread across five different countries "leading to operational inefficiencies." Ader blames "politics, personalities and factionalism" for this lack of frugality.
Ader also took another shot at those controversial bonuses recently awarded to Bwin.party CEO Norbert Teufelberger, CFO Martin Weigold and non-executive director Manfred Bodner, saying they don't "properly align management's interest with shareholders." For instance, the new incentive plan doesn't include Total Shareholder Return (TSR) as a metric of achievement. Ader notes that 76% of similarly sized FTSE 250 companies – as well as each of Bwin.party's UK competitors – include TSR as a performance metric.
DR. ADER HAS THE CURE
To reverse Bwin.party's downward trajectory, Ader proposes "refocusing the Company on growing its core real-money wagering business." In addition to rethinking the volume to value strategy, Ader proposes selling off the Kalixa online payments division and the Sportsman Media Group sports rights offshoot. The proceeds from these sales would help boost investment in marketing, product development and mobile technology. Ader acknowledges this will lead to further dips in profitability in the short term but believes these steps are "required to stem the Company's decline."
Ader wants Bwin.party to address its "lack of focus on Asia where the Company has strong brand recognition" and to pursue more growth opportunities in the US. "More aggressive cuts in overhead and administrative costs" are also on tap, as well as an evaluation of the "optimal capital structure to assess opportunity to return capital to shareholders over time." Expect these and other proposals to be hot topics at Bwin.party's annual general meeting in Gibraltar on May 22.