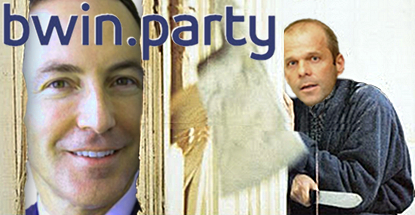 Activist investor Jason Ader (pictured, on the left) has announced his choices for new blood on the board of UK-listed online gambling operator Bwin.party digital entertainment. Ader's Spring Owl investment vehicle acquired a 6.1% stake in Bwin.party earlier this year – since reduced to 5.27% – making Ader the company's second largest investor and affording him the right to appoint his own representatives to the company's board of directors. After some analysis of the current directors' individual strengths and weaknesses, Spring Owl has submitted a list of four nominees as independent non-executive directors.
Spring Owl had put forward the names of American tech entrepreneur Michael Fertik (CEO of Reputation.com), banking-focused lawyer Francis Grady, tech-focused venture capitalist Kalendu Patel and Innovation Group founder Steven Ritto. Ader told the Telegraph that the US-focused nature of his choices were intended to match Bwin.party's stated aim of US expansion.
Ader 's proposal will be discussed at Bwin.party's annual general meeting on May 22 in Gibraltar. Ader stated that his efforts to shake up Bwin.party had a single objective: "To see a higher share price." The Financial Times quoted Ader saying Bwin.party was earning "little more than half" the profits it should be generating. The markets greeted Ader's announcement by boosting Bwin.party shares by 2% after two weeks of small declines.
Ader said he'd told Bwin.party CEO and occasional fugitive from French justice Norbert Teufelberger (pictured right) that he wasn't looking to "change the player" but to "surround him with the right support" in the hope of pumping some air back into Bwin.party's sagging balloon. The FT quoted Ader making his case for a senior management shakeup by comparing Teufelberger to tennis ace Roger Federer. Ader said he'd told Federberger he was "losing tournaments and events you shouldn't be losing … You need a new coach, a new trainer, new rackets, new sneakers, new strings."
In response, Bwin.party issued a statement noting that Ader was only allowed to appoint a single member to the board and thus "the proposed appointment of four directors would be in addition to SpringOwl's existing right to appoint a Board nominee." Ader had criticized Bwin.party's recent appointment of Philip Yea to its board by saying it didn't appear to address the company's needs but denied that the proposal of four nominees was a "tit for tat" response.
It's widely believed that Ader intends to push for Bwin.party to be split into two divisions: one to serve regulated markets and another to serve so-called 'grey' markets in which the regulatory landscape is less cut and dried. Bwin.party pulled out of 18 such markets a year ago in a bid to clean up its act while awaiting US regulatory approval and the company's revenues have yet to recover. The suggestion has also been made that Bwin.party spin off its Kalixa online payments division into a separate entity.