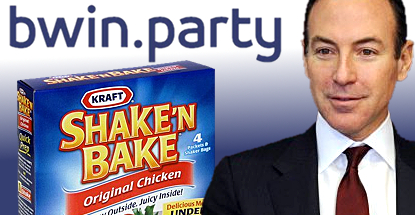 UK-listed online gambling operator Bwin.party digital entertainment says revenue fell 8% year-on-year during the first three months of 2014, leading the company's new 'activist' investor to suggest senior management changes are required to arrest the company's decline. Total revenue came in at €165.7m, down from €180.2m in Q1 2013 but 1% higher than Q4 2013, which the company claims is evidence that the worst is over.
Management chose to emphasize its comparatively positive sequential figures, which saw sportsbook revenue up 3% over Q4 2013, casino up 1%, bingo up 5% while poker was flat, despite the company's late-2013 launch in New Jersey. Revenue from "nationally regulated and/or taxed" markets accounted for 56% of Bwin.party's total take, up from 51% a year ago, reflecting the Greek government's move to IP-block Bwin.party sites and the company's mid-2013 decision to stop accepting new customers from 18 'grey' markets.
Compared to Q1 2013, Bwin.party's sports betting handle fell 10% and revenue fell 3%. Casino handle fell 5% and revenue was down 8%. Poker revenue fell 26% as average daily players dropped 33% year-on-year and 6% sequentially (again, despite the New Jersey bump). Bingo revenue fell 4% as active player days fell 17% and new sign-ups dropped 15%. On a positive note, 'other' revenue rose 16%, for which Bwin.party's Kalixa online payments offshoot is being given most of the credit, while mobile's share of the overall revenue pie increased to 17% from 8% last year.
Other than that, the only genuinely positive statistics in Bwin.party's key performance indicators for Q1 were an 18% rise in yield per active player day and a 5% rise in yield per unique active player in the quarter. Meanwhile, the number of active player days, daily average players and real money sign-ups were all down 23%, while unique active players fell 21%. Average net daily revenue fell 9% year-on-year but rose 4% sequentially.
ADER SAYS MANAGEMENT DOESN'T HAVE THE RIGHT STUFF
Bwin.party also announced the appointment of Philip Yea, former CEO of private equity firm 3i Group, to the company's board of directors. Yea, who left 3i in 2009 after the company experienced a 70% drop in its share price, will succeed the outgoing Simon Duffy as chairman. The appointment isn't sitting well with Jason Ader (pictured), who acquired a 6.1% stake in Bwin.party last month via his SpringOwl investment vehicle. SpringOwl issued a statement to the Telegraph questioning "personnel decisions which do not appear to take into account the needs of the business" and saying it remained unconvinced that the "choices and decisions made by this board are in line with the goal of restoring shareholder value."
SpringOwl went on to question "compensation decisions which we don't believe have been aligned with the success (or lack thereof) of the shareholders." Last month, Bwin.party CEO Norbert Teufelberger and other top execs were granted six- and seven-figure bonuses despite the objections of nearly one-third of shareholders, who, given the 40% decline in share value suffered during these execs' time at the helm, felt the bonuses amounted to rewarding failure. SpringOwl noted that shareholders had been left "bearing the economic burden of [the board's] mistakes."
Speaking to eGaming Review, Ader said Bwin.party's track record since the 2011 merger of Bwin and PartyGaming had been "very poor" and that the "stock performance speaks for itself." Ader noted that the merger's promised cost savings had failed to materialize and wondered "how much due diligence was done" before the companies were welded together. (In future, listen to Calvin.) While acknowledging that the overall online gambling environment had been less than optimal, Ader pointed to the boffo results 888 Holdings had recorded over the same period, which left "no doubt Bwin.party is underperforming."
Ader says he's offered to sign a non-disclosure agreement if Bwin.party management would be willing to have a frank discussion on the company's future but has so far been rebuffed. Ader suggested Bwin.party might consider splitting into separate entities; one to serve regulated markets, another to serve 'grey' markets as well as spinning off Kalixa into a standalone company.
However, Ader suggested that Teufelberger needed to "surround himself with better management," saying he didn't know why "any shareholder would have confidence in the current management team to implement change." Ader's stake in Bwin.party allows him the right to appoint a director to the company's board, but Ader says he's still evaluating the other directors before choosing someone who best complements the existing team's skill sets.