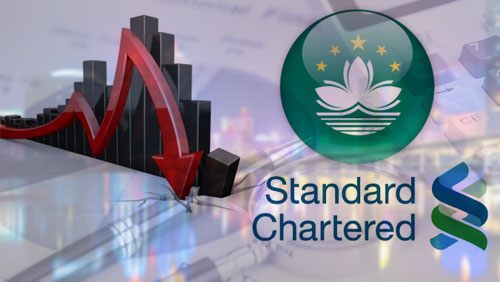 Macau's year on year gross gambling revenues in November are likely to drop from 17% to 21%, the sixth straight month of declines, said financial analyst Sterne Agee.
Revenue growth in Macau has been hit hard by a crackdown on corruption in Mainland China, which has led high rollers to curb extravagant behavior on concern about appearing on Beijing's radar. The general slowdown in the Chinese economy and tight credit is also hitting spending habits.
As of November 23, Macau's gross gambling revenue sits at MOP24.3 billion.
According to Agee, the quality of consumers going to Macau these days is "relatively weak" compared to last year. The quantity of tourists number has risen but most of these tourists don't play in the casinos and those who do are often mass-market gamblers who aren't able to significantly boost gross gaming revenues quite like VIPs and high rollers.
There have been recent developments that point to Beijing's continued support of Macau and its casino industry but Agee maintains that unless the VIPs come back and start playing in the casinos again, Macau's gross gaming revenue isn't likely to return to its previous standards anytime soon
Another financial analyst Standard Chartered has said that Macau's VIP and junket models, which steered the massive growth in revenue in the world's biggest capital, is in a "near broken" state and that no short-term and long-term solutions can help bring them back to health.
According to the U.K.-based bank, junkets are facing heavy tightness in funding and liquidity that has prevented the junkets from obtaining any sort of capital and without the capital, these same junkets are facing weaker rolling volumes and margin pressure. "We see these issues persisting well into a China easing scenario," Standard Chartered added.
Some junkets have even resorted to selling properties in Macau just to keep its books in order. The scarcity in VIP gamblers have also turned the junket industry into a survival-of-the-fittest jungle where the slow and weak are eaten up by those who remain aggressive in putting high rollers in casino seats.
Standard Chartered has cut EBITDA estimates for Macau operators by an average of 21% in 2015 and 26% in 2016. It has also reduced its share price targets by about 29%, giving an estimate of 12 to 20% decrease from the current Street consensus, which appears overly optimistic. Gross gambling revenue forecasts were also reduced, seeing a contraction of 2% next year, followed by growth of 10% in 2016 and 10.5% for 2017.