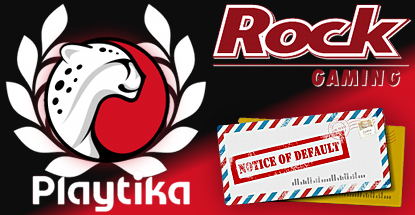 Nevada gaming regulators have tentatively approved Caesars Entertainment's transfer of a good chunk of its online gambling division to a joint venture partner. On Wednesday, the Nevada Gaming Control Board gave a provisional thumbs-up to Caesars transferring an 11% stake in Caesars Interactive Entertainment (CIE) to Rock Gaming, with whom Caesars has partnered on a number of brick-and-mortar casino projects, including the new Horseshoe Casino Baltimore. Rock Gaming founder Dan Gilbert was approved to act as an investor about a year ago and Illinois regulators signed off on the plan in July.
The CIE stake transfer was part of a controversial transaction Caesars set in motion early last year. As Caesars played asset whack-a-mole, some holders of the company's industry-high $24b in debt accused management of stripping the parent company of anything of value while leaving creditors holding a hollow, largely worthless shell. Caesars is currently juggling multiple lawsuits from aggrieved note-holders who believe the asset transfers are fraudulent and thus Caesars is in default and must be forthwith transferred to the nearest vivisectionist's office.
Caesars was hit with a fresh notice of default on Monday by Wilmington Savings Fund Society, which represents holders of $3.7b worth of Caesars' parent company's second-lien notes. In a filing with the US Securities Exchange Commission, Caesars said the problem was its pledge of certain assets to senior creditors and its failure to grant the Wilmington Group a similar claim. Caesars has 60 days in which to respond to the default notice.
THE ONE THING CAESARS DOES RIGHT
As the parent company furiously treads water, CIE's social gaming division Playtika held its position atop the social casino market share charts. Third quarter figures compiled by Eilers Research show CIE holding 21% of the social casino pie, nearly twice the 11% held by its closest rival, IGT's DoubleDown Interactive. One-time social titans Zynga remain in third with 9%, followed by Big Fish Games' social casino titles (8%), GSN/Bash Gaming (7%) and Scientific Games' Williams Interactive (5%).
Playstudios, the power behind MGM Resorts' successful myVegas app, scored 2% of the pie, as did High 5 Games, DoubleU Games and Aristocrat's Product Madness. The remaining 31% was carved up by a host of lesser lights.
Comments