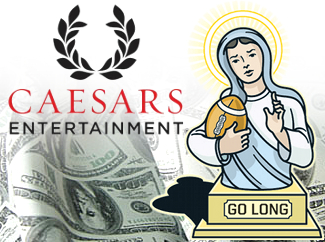 US casino operator Caesars Entertainment has followed through on plans to spin off its online arm Caesars Interactive Entertainment (CIE) into a separate entity free of the parent company's crippling $24b+ debt load. On Tuesday, Caesars announced the creation of Caesars Growth Partners (CGP) LLC, which will encompass CIE as well as the Planet Hollywood casino in Las Vegas and the as yet unfinished Horseshoe Baltimore casino, which Caesars is building in partnership with Rock Gaming. Mitch Garber, CEO of CIE, will also serve as CEO of CGP.
The CGP switcheroo, which still requires regulatory approval, will be funded by investments of $250m each from bailout specialists Apollo Global Management LLC and TPG Capital LP, the same companies that spent $30.7b to take Caesars private in 2008, right before the global financial system melted down, along with any hopes of that deal ever turning a profit. Caesars hopes to raise an additional $700m through the sale of shares in the new firm to existing Caesars shareholders. Caesars will retain majority ownership of CGP, with its share estimated at between 57% and 77%.
Tuesday's news boosted Caesars stock to heights unseen since re-floating in February 2012, closing out Tuesday's trading up over 27% to $15.90. How long this euphoria will last is anyone's guess, but it puts even more pressure on CIE to deliver a home run when real-money online gambling commences in the US market. Caesars has been selling CIE as its ace in the hole, but Caesars' projections are based on its rather fanciful assumption that it will enjoy a dominant position when real-money play starts, as if competition from state lotteries, Indian tribes and international operators partnering with other US casino firms – or buying into the casino market directly, à la PokerStars in New Jersey – weren't a factor.
Caesars CEO Gary Loveman said the transaction would enable Caesars "to raise equity capital at attractive valuations without diluting stockholders of Caesars and provides Caesars additional cash without incurring new debt." Loveman said the company was positioning itself "to make strategic investments." Just a thought, but have they thought about making a bid for PokerStars?
Analysts suggest CGP could eventually be taken public, which could offer its parent company another brief temporary cash infusion. But with its annual revenues insufficient to pay even the interest on its debt, the 'rearranging the deck chairs on the Titanic' metaphors never seemed more apt. While this is undeniably Caesars' version of a Hail Mary pass, investors may wish to go 'short' rather than long.