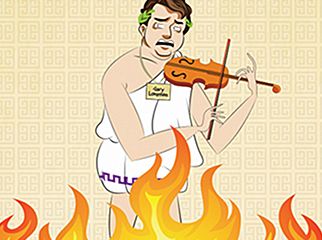 Casino operator Caesars Entertainment has been fined $225k by New Jersey gaming regulators for allowing a high-roller to sexually accost staff and take illegal drugs while gambling at Caesars' casinos in Nevada. Though the incidents occurred well beyond New Jersey's borders, the New Jersey Division of Gaming Enforcement (DGE) has previously put its foot down over MGM Resorts' doings in Macau, so this is no great jurisdictional leap. On Monday, the DGE announced that Caesars' "failure to exercise discretion and sound judgment" could tarnish the reputation of the entire casino industry.
The gambler in question was Terrance Watanabe, a Nebraska businessman who ran up a $127m tab during an epic spree at Caesars Palace and the Rio Casino in Las Vegas in 2007. After paying up all but the last $14.7m, Watanabe sued Caesars/Harrah's, claiming the casino had plied him with prescription painkillers and alcohol. Caesars denied it had supplied pills to anyone and the two parties eventually settled out of court in July 2010.
The DGE ruled that Caesars had failed to protect staff from Watanabe's "inappropriate sexual conduct," thereby falling afoul of its own sexual harassment policy. An internal report prepared for Caesars by an outside investigating agency said Caesars' senior management had also failed to respond appropriately after more than a dozen people reported that Watanabe was doing illegal drugs – including marijuana and cocaine – on the property.
The $225k settlement, which was reached March 7, says Caesars agreed to pay "in recognition of the seriousness" of its slipshod approach. The timing is highly ironic, given Caesars is currently leading a sock-puppet campaign to bar PokerStars from New Jersey's fledgling online gambling market. The Caesars-backed American Gaming Association told the DGE that if a "criminal enterprise" like Stars were given a New Jersey license, "the integrity of the gaming industry would be gravely compromised." Pot, have you met kettle?
Adding further irony, Caesars' stock had briefly hit an all-time high of $18.36 on Monday before closing the day up 3.7% at $17.50. Regardless, it's significantly above the $9 price at its early investor bailout, er, initial public offering a year ago. The stock was just $7.40 at the start of the year but recent legislative progress has attracted speculators who have swallowed Caesars' overconfident projections about its performance in a US online gambling market. (At last count, the stock was down nearly 2% on Tuesday.)
There's little argument over Caesars debt. Caesars is the gaming industry's unchallenged debt holder and – like CEO Gary Loveman's waistline – it's growing every quarter. Most of us have a hard time conceiving numbers in the billions, so we hope the infographic below paints a more vivid picture.