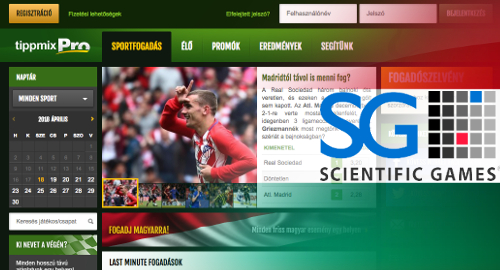 Gambling technology provider Scientific Games Corporation has launched a new sports betting product for Hungary's state-owned lottery and betting operator.
On Tuesday, Sci-Games announced that it had successfully launched an online sports betting product for Hungary's Szerencsejáték Zrt, the government-owned monopoly sports betting and lottery operator. Sci-Games has been working with Szerencsejáték since 1997 (through a legacy company) but is now the sole provider of Szerencsejáték's gaming technology.
The omni-channel sports platform offers Hungarian punters the opportunity to wager via both desktop and mobile digital products, in addition to powering the monopoly's nearly 5k retail lottery terminals. The monopoly's CIO David Csillag said the launch "creates a seamless gaming experience for our players."
Of course, Hungarian punters have to take Csillag's word that Szerencsejáték's offering is the bee's knees, given that the government has routinely fought efforts by internationally licensed online gambling operators to acquire local licenses, despite this stance having been declared unlawful by the European Union's top court.
Szerencsejáték reported revenue rising 10% in 2017 to HUF462b (US$1.8b), with 45% of that revenue coming via sports betting. Interactive sales channels claimed 14% of the monopoly's overall revenue, up two points year-on-year.
READY WHEN YOU ARE, NEW JERSEY
On the other side of the Atlantic, Sci-Games says it's "commenced sports betting review sessions" with gaming regulators in New Jersey in anticipation of a favorable ruling in the state's sports betting case at the U.S. Supreme Court.
In February, the New Jersey Division of Gaming Enforcement (DGE) invited would-be betting operators to "commence the application process" to ensure they could hit the ground running if the Supremes give New Jersey the nod. Accordingly, Sci-Games' new SG Digital offshoot says its OpenBet product is "getting ahead of the game to ensure its ambitious partners are ready to launch" if/when the good word arrives.
Sci-Games isn't the only company revving its engines in New Jersey. Bookmaker William Hill's US division has had a sportsbook deal with the Monmouth Park racetrack for years, while Atlantic City's Borgata casino is building its own sportsbook and daily fantasy sports operator DraftKings is reportedly negotiating sportsbook deals with at least one Atlantic City casino operator.