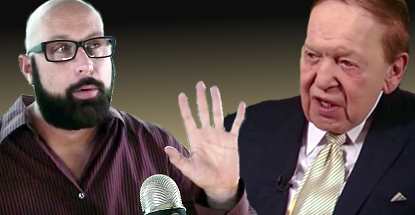 A new video exposé aims to shine a harsh(er) spotlight on Sheldon Adelson's online gambling hypocrisy.
Late Thursday night, blogger Tim James (pictured on the left) released the first episode of his new TheTimJamesShow.com. Last weekend, James had released a video teaser detailing the comparative ease with which underage gamblers could gain access to the casino floors of Las Vegas Sands' properties, where they were allowed to gamble and consume alcohol.
The teaser went on to show the difficulties these same minors had while attempting to register and gamble on Nevada-licensed online poker sites. James maintained that this pokes Titanic-sized holes in claims by Adelson and his Coalition to Stop Internet Gambling that Sands' brick-and-mortar casinos are better equipped than online sites to screen for underage patrons (although hefty fines seemed to have already settled this argument).
In Part 1 of his debut episode, James reveals that he was prompted to act after receiving a form letter from his local US Senator Diane Feinstein (D-CA), a supporter of the Adelson-backed Restoration of America's Wire Act, which would eliminate most forms of online gambling in the US. Feinstein cited the alleged ability of minors to easily gamble online as part of her justification for supporting RAWA.
Using an interview Adelson conducted with Bloomberg News, James takes apart Adelson's "dishonest or uninformed argument" regarding the use of random number generators and protections offered to people who either can't afford to gamble in brick-and-mortar casinos or who demonstrate obvious problem gambling tendencies.
James includes some colorful anecdotes about the state of some gamblers he's encountered at Sands' Las Vegas properties, including people who vomit at the gaming table but are subsequently permitted to keep on playing. James also enlists the help of poker pro Brian Hastings, who lamented the impact that Adelson's anti-online campaign has had on US poker players.
Hopefully, Part 2 of James' inaugural episode will include more of his encounter with one of the many working girls at the Venetian, who are definitely not part of any prostitution strategy by Sands.
Comments