Michigan might be back in the online gambling race after Gambling Compliance chief, Chris Krafcik, tells all that State Senator Rep. Brandt Iden is busy trying to whip up votes for a revised iGaming bill in the state.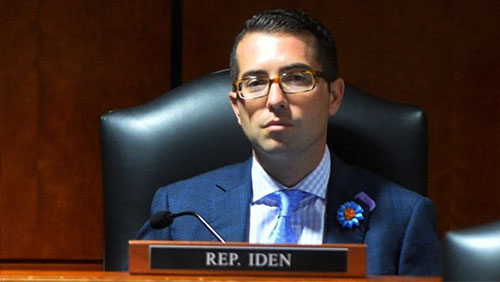 I'm on the beach, stones trying to break into my bloodstream via the soft pulp of my sissy feet. I'm knocking a yellow foam ball back and fore to a 14-year-old kid.
"Can we play poker, later?"
"I don't know." Said his Mum, standing a few feet away.
I made the mistake of telling the lad that I once tried to be a professional poker player. I can see that his mother doesn't want him involved. I keep receiving facial twitches from her telling me to shut the fuck up and to talk about Jesus instead.
I don't know what to say.
His mother saves the day.
"It's not even legal."
"Is it?" He asks.
And at that point I am stumped.
I am sure that somewhere in a rulebook older than the bible, there will be a law that expressly prohibits playing poker for real money inside a tent in Tenby with a 14-year-old boy.
But if there is a law, it's stupid and deserves to be ignored.
And it's not only bad influencers in Tenby who ignore such laws.
Back in 2017, Rep. Senator Brandt Iden told CardPlayer Magazine that during a discussion with some Michigan college kids about online gambling, they said they played online poker within the state and were shocked when Brandt told them they were breaking the law.
The ignorance of those college kids tells you all you need to know about the sensibility of the legislation.
Iden wants a change.
The Dead Bill 
Iden first introduced proposed legislation to legalise online gambling in Michigan back in September 2017. Like most gambling bills, the Michigan Lawful Internet Gaming Act (HB 4926) died somewhere along the way. Iden couldn't even get the leaders of the 20+ tribal casinos to agree that the bill was a good idea.
The bill spoke of the desire to create the Michigan Internet Gaming Division (MIGD). It would operate under the Michigan Gaming Control Board (MGCB), to create the licensing and operational rulebook for real money online casinos.
Gaming Licenses 
The states tribal casinos and the three Detroit casinos (MGM Grand, Greektown and Motor City) could apply for an online gambling license. At the time, the three Detroit casinos backed the bill with the tribes at loggerheads over the issue. The fee was $100,000 up front with a $200,000 initial license fee and a $100,000 annual renewal. Players had to be 21+.
Problem Gamblers
The literature contained the usual rote passages to manage problem gambling including self-inclusion rules, self-imposed deposit and wagering limits, state-run helplines and an exclusion list that evaded the Freedom of Information Act (FOIA). None of these bills ever do enough to satisfy the people holding the pen that online gambling won't lead to 14-year-old children standing on beaches playing softball turning into raving gambling addicts.
The Resurrected Bill
Before I poured boiling tea on my face thinking the thermos contained chilled cold water this weekend, Chris Krafcik of Gambling Compliance tweeted that Iden was whipping votes for a revised version of HB.4926.
#MI Rep. Iden began whipping votes for a revised draft of his #iGaming bill this week, he told me today. The new draft includes an 8% GGR tax and online sports betting option for Detroit casinos + an operate-by-compact option for MI tribes. More tomorrow a.m. on @GamblingComp.

— Chris Krafcik (@CKrafcik) May 3, 2018
The revised bill includes a provision to implement online sports betting should the Supreme Court repeal the 1992 Professional and Amateur Sports Protection Act (PASPA) in New Jersey. Tax on Gross Gaming Revenue (GGR) falls from a fixed rate of 15% to 8%. I assume the latter is to get the tribes on board. The National Indian Gaming Association recently intimated that they are in favour of legalising sports betting 'under certain conditions.'
The bill contains no bad actor clauses, allows state compacts (enabling Michigan to join the recently formed tri-state agreement), but forbids casinos in the state from entering into treaties outside of the US.
Gambling is big business in Michigan. The three Detroit casinos generate roughly $1.4 billion a year, with tribes adding a further $1.5 billion to the mix. When Michigan legalised an online lottery in 2014, it rapidly grew into an $80m revenue-generating business. Online gambling revenue estimations stand at $300m per annum.
Will it get through?