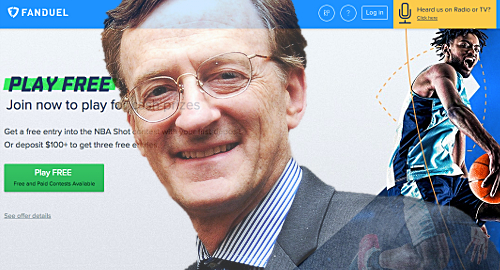 Daily fantasy sports (DFS) operator FanDuel is reportedly prepping a 'reverse merger' with a publicly traded investment firm linked to Hollywood exec Jeff Sagansky (pictured).
On Thursday, Axios reported that Sagansky's Nasdaq-listed 'special purpose acquisition company' (SPAC) Platinum Eagle Acquisition Corp was in "advanced talks" to acquire FanDuel. Nobody at either company is currently willing to discuss the report, nor what type of value Sagansky's SPAC may be putting on the struggling DFS operator.
FanDuel's senior management has been desperately searching for an exit strategy following last July's demise of plans to merge with archrival DraftKings. The Federal Trade Commission blocked the deal based on its belief that the two companies, which have struggled to maintain the early momentum of the US DFS market, would have controlled too great a slice of the pie.
Leaked financial documents indicated that FanDuel and DraftKings were hemorrhaging money due to costly marketing wars, a stagnant DFS market and spiraling legal costs from fighting state-level anti-DFS initiatives. FanDuel's auditors went as far as to express doubts over the company's ability to continue as a going concern without some financial white knight appearing on the horizon.
The DFS operators appear to be pinning their long-term survival on a pivot towards real-money sports betting. DraftKings has been particularly active on this front, announcing last month that it had hired UK betting exec Sean Hurley as its first 'head of sportsbook.'
In launching Platinum Eagle earlier this year, Sagansky claimed the entity would place a particular focus on acquiring "media and entertainment companies that can benefit from the digital disruption that has transformed the business on a global basis."
FanDuel co-founder Nigel Eccles stepped down as the company's CEO last November, although he's already resurfaced as the face of Flick, a new 'social streaming platform' for eSports enthusiasts. In January, Sagansky claimed that "everything is now moving toward streaming," suggesting he and Eccles are of one mind on this front.
Comments