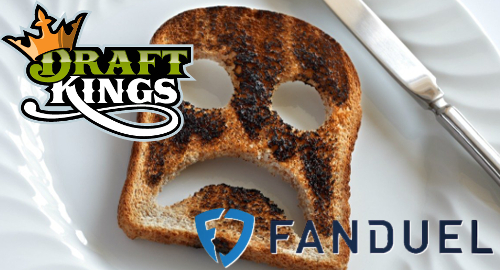 The proposed merger of daily fantasy sports giants DraftKings and FanDuel was officially pronounced dead on Thursday by the CEOs of both companies.
Early Thursday afternoon, FanDuel CEO Nigel Eccles issued a statement saying he believed it was "in the best interest of our shareholders, customers, employees and partners to terminate the merger agreement and move forward as an independent company."
DraftKings CEO Jason Robins simultaneously issued a similar statement, saying the merger's demise would allow his company to "singularly focus on our mission of providing the most innovative, and engaging interactive sports experience imaginable."
The statements came just two days after Eccles expressed doubts about the merger going forward in the wake of efforts by the Federal Trade Commission (FTC) to block the union due to concerns over decreased competition in the US DFS market.
Eccles' statement said his company's November 2016 decision to merge with DraftKings was based on the belief that the deal "would have increased investment in growth and product development thereby benefiting consumers and the greater sports entertainment industry."
Eccles said FanDuel's view on the subject hasn't changed since November, but he's equally convinced that there is an "enormous, untapped market opportunity for FanDuel, and we will continue to execute our strategy to grow our business and further expand the fantasy sports industry."
The merger's formal demise comes just one day after both DFS companies filed their legal responses to the FTC lawsuit, which they claimed was applying "an unnecessarily rigid and uninformed application of the antitrust laws to an underdeveloped, nascent industry." The parties had been set to hold a scheduling hearing on Friday ahead of an expected trial date this November.
The merger would have resulted in the FanDuel brand being discarded in favor of the arguably more dominant DraftKings name, a move that presumably didn't sit well with Eccles, whose historical relationship with Robins could charitably be described as strained.
Despite controlling an estimated 90% of the US DFS market, both companies have hemorrhaged money over the past few years, resulting in the constant need to flog pieces of their business to outside investors who still believe the companies can eventually turn a profit.
This week, Eccles suggested that 2018 would be FanDuel's "break-even year," although part of that assumption was based on the two companies no longer requiring to blitz the airwaves with competing marketing pitches. Expect Eccles to announce a new funding round any day now as the company gears up for an even more important NFL season.