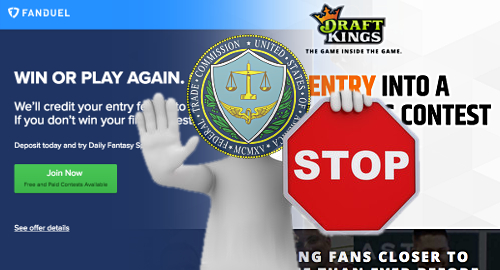 The proposed merger of daily fantasy sports operators DraftKings and FanDuel appears dead in the water after the US Federal Trade Commission (FTC) filed suit to block the union.
As rumored last week, the FTC filed a complaint on Monday to block the proposed merger of DraftKings and FanDuel based on the FTC's view that the combined entity would control over 90% of America's DFS market. The FTC has authorized staff to seek a temporary restraining order and preliminary injunction to forestall the merger ahead of an administrative trial scheduled for November 21.
Tad Lipsky, acting director of the FTC's Bureau of Competition, said in a statement that the merger "would deprive customers of the substantial benefits of direct competition" between the two DFS giants. Lipsky said the FTC's filing demonstrated the regulator's commitment to "the preservation of competitive markets."
The DFS operators had argued that their dominance of the DFS market had to be seen in context with the overall fantasy market, which includes season-long contests. But the FTC believes DFS players "are unlikely to view season-long contests as a meaningful substitute" for real-money DFS.
The FTC's complaint further alleges that the entry of other DFS operators into the US market "is not likely to provide timely or sufficient competition to offset the anticompetitive effects of the merger." The FTC also rubbished the arguments that the "purported efficiencies" of a merged DraftKings-FanDuel would offset the likely competitive harm.
The FTC's complaint was joined by the Attorneys General of California and the District of Columbia. Neither state attorney's office has publicly commented on its rationale for piggybacking on the FTC action but given the importance of California to both DFS operators' bottom lines, its involvement can't be a comforting sign.
Jason Robins and Nigel Eccles, CEOs of DraftKings and FanDuel, respectively, issued a joint statement expressing their disappointment with the FTC action and claiming to be "considering all our options at this time," which reportedly includes the likelihood of asking federal courts for an injunction to block the FTC's injunction.
The hiccup likely means DraftKings and FanDuel will continue to operate as separate companies at least through the upcoming NFL season. Neither company is believed to be profitable, thanks in part to costly marketing wars that bled both companies white while only marginally enlarging the DFS player pool.
The merger was widely perceived as the most probable path to profitability for either company, and the companies will now likely have to engage in yet more funding rounds to ensure there's enough cash to keep the lights on while they await some final resolution of their competition concerns.