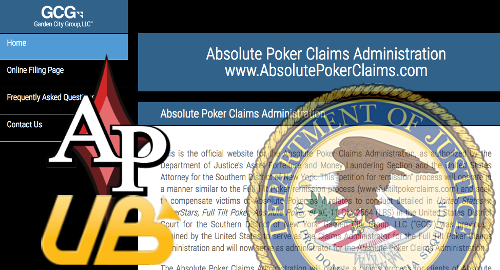 Online poker players left high and dry by the 2011 collapse of Absolute Poker could yet find salvation courtesy of PokerStars's former owners, with a little help from the US Department of Justice.
On Monday, Joon H. Kim, Acting United States Attorney for the Southern District of New York, issued a statement regarding a "compensation program for Absolute Poker victim players." The statement says the DOJ has retained the Garden City Group (GCG) to oversee compensation for "eligible victims of a fraud committed by Absolute Poker" against US poker players.
Absolute Poker was one of three poker sites – along with PokerStars and Full Tilt Poker – indicted on April 15, 2011 aka Black Friday by Kim's predecessor Preet Bharara, who was unceremoniously sacked last month during US President Donald Trump's post-inauguration purge of the DOJ.
AP and its sister site Ultimate Bet collapsed shortly after the indictments when it became clear the sites didn't have the money to refund their US player account deposits as ordered by the DOJ. FTP's players were left similarly high and dry, until PokerStars founders Isai and Mark Scheinberg worked out a deal with the DOJ to cover both Stars' and FTP players' obligations to US players.
GCG was tasked with handling the DOJ's (re)payments to FTP's US players, which the DOJ says have totaled $118m to date. The DOJ now says that AP players "are similarly situated" to FTP's defrauded US players and thus a portion of the remaining funds from the PokerStars settlement "will be used to fund a claims process for eligible Absolute Poker victims."
The DOJ said the AP victims claims process would begin "shortly" and that further information would be released via a new GCG website AbsolutePokerClaims.com. Info is also available via a toll-free call to 855.907.3254. The website lists a June 9, 2017 deadline for filing a remission claim.
The GCG makes no guarantee that players will receive their full balances, as it remains to be seen whether the total amount sought will exceed the unknown amount left in the GCG kitty following the payments to FTP players. Should there be too many pigs for the teats, accounts will be refunded on a pro rata basis.
The GCG's new website also specifically states that "account balances from online poker sites other than Absolute Poker are not included in this remission process." However, the site's incestuous relationship with Ultimate Bet appears to have been factored into the equation, as some UB players have reported entering their UB account info onto the GCG site and seen their UB balances accurately reflected in the GCG info on file.
It's unclear what prompted the DOJ to belatedly come to the AP players' rescue, although the announcement comes less than two months after former AP CEO Scott Tom returned to US shores to resolve his six-year-old federal charges of illegal gambling and money laundering conspiracy. Tom has yet to be sentenced.