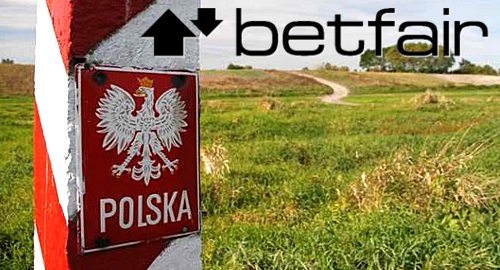 Online betting exchange Betfair has joined the tide of operators rushing to exit Poland ahead of the country's new gambling regime taking effect this week.
Betfair may be part of the Paddy Power Betfair betting behemoth, but it's apparently no match for the amended Polish Gambling Act, which mandates that all online gambling operators not willing to apply for a new local license must GTFO before Saturday, April 1 (and no, it's not a giant April Fool's joke).
Betfair is the latest in a growing line of prominent online operators to bid Poland farewell, including Pinnacle, EnergyBet, Bet365 and William Hill. While Hills has suggested it may one day return as a locally licensed operator, other operators appear resigned to simply crossing Poland off the map until the government creates a more welcoming environment.
The amended Polish Gambling Act retained the country's controversial 12% tax on sports betting turnover, which pretty much renders the act of providing online betting to Polish punters something of a charitable exercise.
The government promised to address the tax issue at some future date via separate legislation but the exits of such prominent online brands that had been operating in Poland's so-called 'grey market' may ultimately convince the government that there's no need to amend the law further.
Michal Kopec, senior business manager at affiliate marketers Better Collective, told eGaming Review that Bet365's exit alone would cut online grey market volume by nearly half, leaving more opportunities for the five current Polish-licensed operators (including Fortuna Entertainment, Milenium, STS, Totolek and state-owned Totalizator Sportowy).
Kopec suggested that if the operator exodus convinces payment processors that the Polish market is no longer worth serving, the remaining grey market will be "very small" indeed. That could lead the regulator to conclude that no tax reduction is necessary, as the current strategy is accomplishing the goal of shrinking the grey market, which once accounted for an estimated 90% of all online betting in Poland.