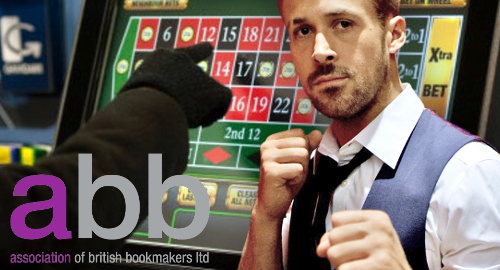 Britain's bookies are crying foul over a parliamentary report calling for fixed-odds betting terminals (FOBT) maximum stakes to be reduced from £100 to just £2.
On Monday, the Association of British Bookmakers (ABB) issued a terse press release "demanding an urgent inquiry into a new report" by the All-Party Parliamentary Group (APPG) tasked with studying the alleged carnage that FOBTs have wrought on UK society.
The ABB declined to participate in the APPG's November meeting with industry figures re the FOBT issue, calling the exercise a "kangaroo court." In December, the APPG publicly declared its desire to see the government order a stake reduction – as well as cutting the current maximum of four FOBTs per shop – as part of the gambling review the government announced last October.
The APPG's full report is set to be issued on Tuesday, but the ABB wasn't willing to wait that long. Monday saw the ABB launch a pre-emptive strike against the "deeply flawed" report, which it claimed was funded by "commercial rivals of Britain's bookmakers" who stand to "directly benefit if [the report's] recommendations are ever implemented."
The ABB cited a list of organizations that contributed £3k apiece to fund the APPG's report, including the Hippodrome Casino, casino gaming device maker Novomatic, adult gaming center and arcade trade group BACTA, the Gauselmann-owned casino and arcades outfit Praesepe (who just a few years ago was asking for its own FOBTs) and pub chain JD Wetherspoon.
Also making the ABB's anti-FOBT donor hit list was the Campaign for Fairer Gambling, whose founder Derek Webb first discovered he didn't like FOBTs when he found one running a Three Card Poker game Webb invented but which wasn't paying him royalties.
ABB CEO Malcolm George (misspelled as 'Malcom' in the presser, possibly reflecting the speed with which it was typed) said the APPG's report reflected the views of "a tiny group of anti-betting shop" politicians. As such, the ABB "strongly believe" that the Parliamentary Commissioner for Standards should "urgently investigate" the APPG.
The ABB maintain that there is no evidence that stake reduction would result in a decrease in problem gambling, a stance echoed by a December report by the GambleAware charity that found a "stake-only reduction strategy" was "not the most effective option for minimizing gambling-related harm."
In 2015, the UK government declined to impose a maximum stake reduction following a review of FOBT activity. Bookmakers subsequently imposed their own curbs, requiring bets over £50 to be personally approved by betting shop staff.
APPG chair Carolyn Harris said she supported a responsible gambling industry, "but there is nothing responsible about how FOBTs are currently being operated." The report also slams the UK Gambling Commission for not taking a more "active role" in reining in FOBT abuse, while urging the UKGC to "look into accusations of any malpractice by bookmakers or gambling premises more widely."