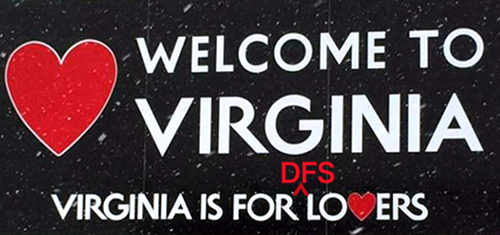 Daily fantasy sports operators got a rare opportunity to celebrate on Wednesday as Virginia legislators approved a bill to regulate DFS.
On Wednesday, the Virginia General Assembly approved SB 646, aka the Fantasy Contests Act, which now requires only Gov. Terry McAuliffe's signature to become law. The vote marks the first time a pro-DFS bill has progressed to this stage since the industry imploded last October.
SB 646 requires DFS operators to pay a $50k registration fee, while registered DFS sites must ensure that all their players are over 18 years of age and that player funds are segregated from operating capital. Operators must also submit to an annual audit by the Department of Agriculture and Consumer Services.
SB 646 exempts DFS from the state's list of illegal gambling no-no's, but the bill's language arguably authorizes other types of 'skill-based' contests involving sporting events – such as prop bets – that could lead the federal government to conclude that the state is in violation of the 1992 PASPA sports betting prohibition. But for the moment, anyway, it's progress.
NEW YORK DFS BILL SETS HIGH HURDLE FOR ENTRY
This week saw DFS operators DraftKings and FanDuel file their latest paperwork in their legal fight for survival with New York Attorney General Eric Schneiderman, who ordered both companies to cease & desist operations in his state last November based on his belief that they're illegal gambling operators under state law.
This week also saw New York state Sen. John Bonacic throw DFS a lifeline by introducing a new bill to regulate the activity. Bonacic's S 6793 (read it here) would exempt DFS from the state's definition of gambling activities and establish a Fantasy Sports Contests Division within the Financial Frauds and Consumer Protection Unit.
Unlike other DFS 'consumer protection' bills, S 6793 establishes a tax rate on DFS revenue. New York-approved operators would pay 15% of revenue derived from New York players and operators would need to submit a $500k deposit against future tax obligations, a hurdle that could preclude smaller DFS operators from horning in on DraftKings and FanDuel's turf.
S 6793 would bar DFS operators from offering contests on college sports or horseracing events. Players would have to be 18 years of age or older to play, and operators would have to establish an undetermined maximum number of entries any DFS player could enter into a single contest.
Operators would have to segregate player funds from operating capital and shield player funds from being swallowed up by operator bankruptcy, financial risk and criminal or civil damage claims.
S 6793 stands a much better chance of progressing than the state's other DFS bills, in part because Bonacic chairs the state Senate Racing, Gaming and Wagering Committee. Bonacic is also backing a new online poker bill that received a favorable vote from his committee earlier this month.
Comments