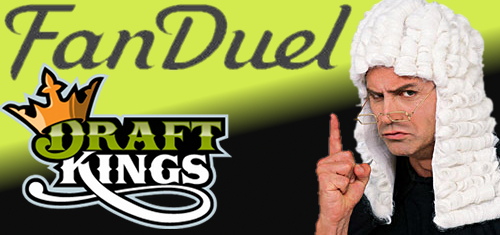 Daily fantasy sports' week from hell got a little more sulphuric on Thursday after both DraftKings and FanDuel were hit with a class action lawsuit over the so-called 'insider trading' scandal.
The suit, filed by Kentucky resident Adam Johnson in US District Court for the Southern District of New York, seeks unspecified damages to be determined by a jury for (deep breath) negligence, fraud and misrepresentation, civil conspiracy, unjust enrichment, and violations of the Kentucky Consumer Protection Act, New York Deceptive Act and New York False Advertising Law.
Johnson, who previously deposited "at least $100" on DraftKings, says he filed his suit on behalf of all US residents "who deposited money into a DraftKings account before Oct. 6, 2015 and competed in any contest where other entries were made by employees from DraftKings, FanDuel or any other DFS site."
The complaint (read it here courtesy of LegalSportsReport) claims the sites' "material misrepresentations and omissions fraudulently induced" Johnson and other players "to give Defendants money, which ultimately went to Defendants and their employees through fees and contest prizes."
The complaint makes liberal use of quotes by DraftKings CEO Jason Robins attesting to DFS being a game of skill. But the complaint argues that access to insider data gives the companies' employees "a huge advantage over even the most "skilled" DFS players."
Referencing the recent scandal precipitated by DraftKings staffer Ethan Haskell, the complaint claims that an analysis of Haskell's DFS history shows "a remarkable increase in winning since moving from a job with [DFS forum] rotogrinders.com covering DFS to inside DraftKings working for a DFS company."
Robins is quoted as saying he "had reservations" about allowing employees to play DFS on rival sites and even discussed the issue with competitors, but ultimately did nothing to stop the practice until the scandal broke.
The complaint says that had Johnson or other DFS players known that "Defendants were working in concert to allow employees of DFS sites to play against them," they wouldn't have played.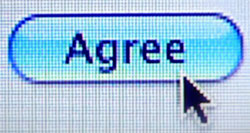 TRICKY TERMS OF USE
Both DraftKings and FanDuel have clauses in the Terms of Use (TOU) that prohibit the filing of class action suits, requiring disgruntled customers to bring individual actions against the companies. Even then, the TOU requires all cases to be settled via binding arbitration. As such, DraftKings' first response to Johnson's suit will likely be a motion to dismiss based on the TOU.
But Johnson's complaint claims the TOU is invalid "because the promises made by DraftKings are illusory." Johnson goes on to say that the TOU contains "no restriction on DraftKing's ability to terminate the 'agreement' or to refuse to perform."
DraftKings' TOU also requires all court proceedings to be heard in its home state of Massachusetts. This clause led a District Court in Florida to transfer a similar case filed earlier this year, which led the plaintiff to drop the suit. FanDuel is based in New York, and its TOU requires all such matters to be carried in its home state, hence Johnson's decision to include the Empire State in his filing.
Whatever the merits or the likelihood of Johnson's suit succeeding, it will succeed in perpetuating the mainstream media's negative narrative that Robins' recent PR blitz was intended to dampen.
MORE FEDERAL POLS PILE ON
Meanwhile, the chorus of federal politicians clamoring for Washington to impose regulations on the DFS sector grows ever louder. On Thursday, Sen. Richard Blumenthal (D-CT) said the Federal Trade Commission should examine whether DFS sites have been engaging in "deceptive, misleading advertising" and the Department of Justice should investigate whether the 'insider trading' scandal involved any fraudulent activity.
The Hartford Courant quoted Blumenthal saying that "whatever the interplay of state and federal statutes, there is a need for federal oversight" of DFS operators. The allegations of insiders misusing privileged information "that exploits fans or consumers and takes their money without their having any apparent knowledge of it is almost garden-variety fraud."
Out west, Rep. Dina Titus (R-NV) sent a letter to the ranking member of the House Committee on Energy and Commerce saying it was "critical" that Congress "investigate this growing industry." Titus said "many experts in gaming law" believed DFS "violates the Unlawful Internet Gambling Enforcement Act."
Fantasy sports received a carveout in the 2006 UIGEA, but DFS didn't exist at the time. Former Congressman Jim Leach, one of the UIGEA's principal architects, has since gone on record saying he never envisioned the exemption would be exploited this way.