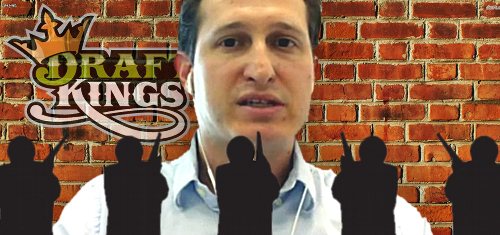 DraftKings CEO Jason Robins continued his media tour on Thursday, seeking to turn down the heat on the scandal that has plagued the daily fantasy sports (DFS) industry this week.
The scandal began after a DraftKings' staffer was revealed to have been given access to player ownership percentage data before all that week's NFL contests had closed. Both DraftKings and rival FanDuel have since tapped third parties to conduct reviews of the companies' internal data handling policies and practices.
In an interview with Fortune, Robins said the law firm of Greenberg Traurig had been asked to conduct "a full audit of all the sensitive data available on DraftKings in the last several years – who accessed it, how, when." Robins said this demonstrated that DraftKings wasn't focused solely on the lone incident involving the aforementioned employee.
Robins straddled the fence when asked why the company waited until after the scandal blew up to institute policies that prevent staff from playing on rival DFS sites. While insisting that DraftKings "always had strong monitoring in place," Robins acknowledged that the ban was something "we should have done before."
As for mounting evidence that the vast majority of DFS players will be net losers at the expense of a tiny group of sharks, Robins said the situation buttressed his mantra that DFS is a skill game and not all that different from a golf tournament. "The reality is most people you are playing are not highly skilled." Robins said it will be "a year or two" before the DFS industry can implement "skill segregation" to ensure noobs have a fair chance at winning something.
Robins claimed the scandal had done more damage to the overall DFS industry than to his company, and attempted to throw his rival under the bus by claiming the scandal "ironically has more to do with people questioning the fairness of the games on FanDuel."
ROBINS RETURNS TO THE SCENE OF THE CRIME
Robins also appeared in a livestream Q&A with Dan Back on the Rotogrinders forum, where the thread that sparked the whole scandal originally appeared last week. Robins didn't reveal much, devoting a good portion of his time to defending the honor of the employee whose actions precipitated the brouhaha.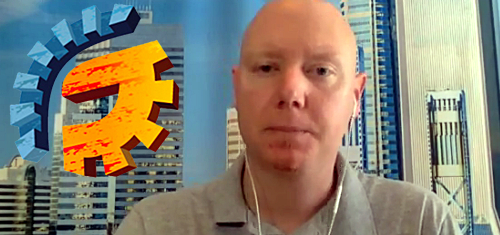 Robins vowed to make public the results of the third-party review regardless of whether or not it detects any improper activity. Robins said DraftKings had conducted "spot checks" on employees' data access history and believes these would have thrown up red flags had there been any improper access. But Robins acknowledged that he couldn't guarantee what the review might uncover.
Robins said both DraftKings and FanDuel were currently having discussions about whether to widen the permanent ban on employees playing DFS at rival sites, i.e. whether to include friends and family in that list. Robins said none of his staff so far had opted to resign so they could continue playing DFS, but he wouldn't be surprised if some staff did end up triggering their ejector seats.
Asked whether DraftKings' relentless television ad campaign had contributed to the industry's negative perception, Robins admitted there was some merit to the backlash but called the question "conflicting," given that the volume of players DraftKings has acquired in recent months has allowed it to usurp FanDuel in terms of liquidity.
Robins said ESPN's decision to pull DraftKings' integration from the network's programs in the wake of the scandal was "day to day" and the integration could "be back on potentially even this weekend, certainly by next week, right back to business as usual."
Robins took issue with the suggestion that DraftKings was anti-regulation. Robins said his position on this score was "evolving" and it was up to the government to decide whether or not to regulate but he claimed to be "very open" to regulation. Robins recognized that regulation would bring "some negatives" but his ultimate goal was to ensure that "everyone trusts us" and if regulation can aid that process, "then that's a good thing."
NOT SUCH A GOOD THING
Judging by the way DraftKings and FanDuel's marquee contests are filling up this Thursday afternoon, the scandal doesn't appear to have had a significant effect on the volume of play on either site. But the negative media attention could impact the sites' ability to attract new customers, particularly given the increasing number of media stories regarding the average fan's chances of winning.
On Thursday, renowned sports bettor Haralabos 'Bob' Voulgaris told ESPN Radio's The Dan Le Batard Show that the average fan who signs up after viewing a DFS commercial doesn't realize that they'll be "competing against professionals who have algorithms and thousands and thousands of entries in all these tournaments."
Voulgaris said if the average DFS player understood what he was up against, "they would realize that their chances of winning are really not that good and it's really not as exciting as they think it is." Voulgaris said there was "a giant partnership between the pros and the sites" that borders on "impropriety."
Also on Thursday, the Sporting News published a piece about some DFS "addicts" who ran up five-figure debts playing on DFS sites. Individual stories can often be tragic, and not necessarily representative of the norm, but the article lists one case in which a player had himself banned from FanDuel in March, only to receive email promos from the site last week. A site would ordinarily be fined for something like that … if it were regulated.