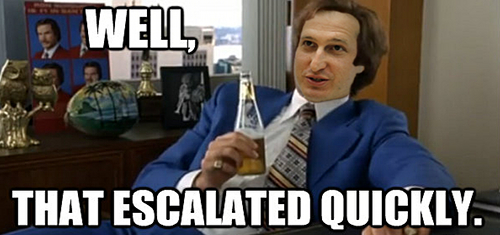 The daily fantasy sports (DFS) industry remains in full-on crisis management mode following this week's dramatic escalation of the 'insider trading' controversy.
Monday saw DFS operators DraftKings and FanDuel "temporarily" ban staff members from playing on rival DFS sites. The move was intended to dampen the rising furor over concerns that an unknown number of DraftKings staff had access to sensitive data that could offer them an edge over other players.
On Wednesday, FanDuel issued a statement saying it had "permanently banned our employees from playing any daily fantasy games for money, on any site." FanDuel will also require customers to confirm that they aren't drawing a paycheck from another DFS site and will block any other company's staff from playing on FanDuel.
The current controversy began after a DraftKings staffer inadvertently published data showing Week 3 NFL player ownership percentages before all of that week's games had begun. The same staffer went on to win $350k in FanDuel's marquee NFL contest, leading many to conclude that he'd used the data to build his team lineups, although DraftKings has stated that the staffer only received this data after FanDuel's contests had locked.
FanDuel also revealed that it had asked former federal judge and US Attorney General Michael Mukasey to conduct a review of FanDuel's "internal controls, standards and practices." Mukasey and his Debevoise & Plimpton law firm will be given "the freedom and authority to look at any areas he thinks appropriate" and to develop " a set of recommendations for us to adopt and to highlight any areas where our controls can be strengthened."
FanDuel is also creating an internal advisory board led by Michael Garcia, former US Attorney for the Southern District of New York, to provide "ongoing advice, recommendations and guidance" on ensuring the integrity of FanDuel's games. FanDuel also said it hopes to talk to regulators across the US about "how to define the right set of rules for our industry."
DRAFTKINGS CEO COMES OUT FROM UNDER DESK
As FanDuel was releasing its statement, DraftKings CEO Jason Robins (pictured) appeared on Fox Business News, announcing that his company had also made permanent its ban on staff playing on other DFS sites. Robins said staff had never been allowed to play on DraftKings but "now it's clear" that they also shouldn't be allowed to play on rival sites.
Robins also claimed that DraftKings had tasked a third-party law firm with reviewing the company's internal practices. The review will be conducted by Greenberg Traurig, which is led by former US Attorney John Pappalardo.
Robins claimed that the law firm had been contracted before the scandal broke, although if this is true, why this information could not have been disclosed in the joint statement DraftKings and FanDuel issued on Monday is a mystery. In fact, Monday's statement strongly suggested the companies were entirely content to handle the matter in-house.
Robins explained his decision to appear on Fox Business because "naturally, people want some answers." Again, this commitment to disclosure would have been far more effective had it been undertaken on Monday, the first business day after the scandal first took root. Robins noted that his was "a young company" and the firm's haphazard approach to crisis management has been on full display this week.
Later on Wednesday, Robins appeared on ESPN's Outside The Lines program, where he faced a harsher grilling. While continuing to defend the DraftKings staffer who initiated the controversy, Robins conceded that the company's data handling policies were less than they should be, which "in retrospect seems obvious to us."
On Tuesday, a FanDuel spokesman claimed that DraftKings employees had won just 0.3% of the total sums earned by players on FanDuel. Yet Robins told OTL that he didn't know how many of his employees played on FanDuel, a somewhat baffling display of unpreparedness, given he had to believe the question would arise at some point during his media tour.
Robins pinned most of the blame for the controversy on the media, saying the controversy was "more optics than anything," continuing to cling to the tone deaf narrative that the data handling question is a tempest in a teapot.
None of Wednesday's moves will be enough to fend off state and federal governments from imposing regulation on the DFS sector. Tuesday saw a mix of federal and state authorities call for fresh examinations of the DFS industry, the results of which can only conclude that, yes, DFS is gambling and thus must be subject to regulation like all other forms of gambling in the US of A.
This summer, Fantasy Sports Trade Association (FSTA) chairman Peter Schoenke told GamblingCompliance that his group was willing to "'work with the [casino] industry and figure out ways to win, but not at the cost of admitting or having the connotations that [DFS] is gambling or has to be regulated as gambling because that's not how we feel the industry should develop."
Yeah, good luck with that.