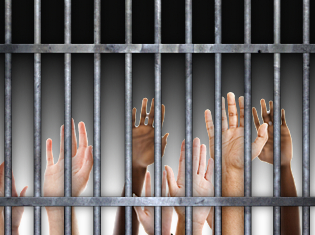 Stijn Flapper, CEO of 3D online slots developer Sheriff Gaming, has been denied bail by a Dutch court because the investigation into Flapper's affairs is ongoing. Flapper and some other top guns at Sheriff were arrested in November on suspicion of money laundering, forgery, illegal gambling and involvement in a criminal organization. The arrests followed last May's seizure of 100 bank accounts and 80 residential and commercial properties across Europe.
On Feb. 3, Flapper and Michel Gregoire – the co-founder of Sheriff's parent company Bubble Group NV and one of the four men arrested in November – applied for bail in a Den Bosch court. Prosecutors protested the request, arguing that the investigation of the allegations was ongoing and that more arrests were imminent. The judge sided with the prosecution and rejected the bail request. Sheriff has previously stated that the allegations have no merit but the Alderney Gambling Control Commission suspended Sheriff's B2B license in September.
IRA RUBIN LOSES APPEAL
Convicted Black Friday payment processing figure Ira Rubin has lost his latest bid to have his sentence tossed. One of the 11 individuals indicted on April 15, 2011, Rubin was arrested 10 days later in Guatemala while trying to catch a plane to Thailand. In January 2012, Rubin pled guilty to wire fraud and money laundering, for which he was sentenced in July 2012 to three years in jail. The sentence was higher than the 18-24 month sentencing guidelines, but Judge Lewis Kaplan believed Rubin to be an "unreformed con man and fraudster" who was virtually guaranteed to reoffend upon release.
Having now served over half his sentence, Rubin filed his second (handwritten) appeal late in 2013, based on the claim that his efforts to fool banks into thinking online poker transactions were really golf ball sales wasn't technically illegal under the Unlawful Internet Gambling Enforcement Act (UIGEA). Rubin argued that since his business wasn't gambling, the indictment was dodgy and Judge Kaplan had no right to hear Rubin's plea. Bollocks, said the court, and ordered the confiscation of Rubin's crayons.
JAILOR OR BOOKIE? YOU MAKE THE CALL!
Tuesday brought another guilty plea stemming from last April's sports betting crackdown that ultimately led to the closure of veteran online gambling site Legends Sports. Former Albany County prison guard Timothy Robillard pled guilty to first-degree promoting gambling in the state Supreme Court and faces a year of conditional discharge when he's sentenced April 15. Robillard also agreed to forfeit $25k and to cooperate with ongoing state and federal prosecutions of his fellow accused.
Contrary to popular belief, it seems there was at least one person who experienced something resembling drama during the Seahawks' drubbing of the Broncos on Super Bowl Sunday. In Hawaii, the Federal Bureau of Investigation raided the home of Bradley Chiba on the suspicion that he was a bookie. When he's not allegedly taking bets, Chiba is a member of the Kauai Police Commission and full-time manager of a prison intake center that conducts assessments of criminal suspects. Chiba wasn't arrested but agents confiscated a computer and slips of paper, so much will depend on what they find. The commission has excused Chiba from his duties and a prison receptionist told Hawaii News Now that Chiba was on leave.