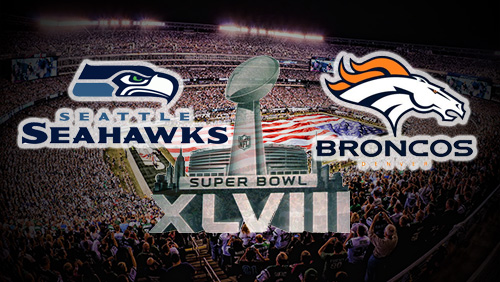 The Seattle Seahawks are Super Bowl XLVIII Champions and no, it didn't destroy a JV team out there on the field. Those people on the opposite side of the field were actually the Denver Broncos, or at least that's what their jerseys read. But none of the "offense vs defense" narratives over the past two weeks mattered, the 'Hawks completely dismantle that high-powered Broncos attack, 43-8. Really, it was over at the half when the Seahawks led 22-0.
So if you're looking for some post-game analysis from us, you're not getting any. The game itself spoke volumes on the dominance of that Seattle defense and how it shellacked Peyton Manning's record-setting Denver offense.
Initial reports coming out of sportsbooks seem to point to the house winning big on Super Bowl XLVIII, aided in large part by a 2-to-1 disparity in bets taken during the week with 68 percent of the public putting money down on the Broncos and only 32 percent rolling with the Seahawks. The line movement at the onset of the two-week build up didn't even matter. If you had Seattle at -37, you still would've covered. That's how laughable the game turned out to be and and those who thought they had a golden ticket on those Broncos +2 odds have probably thrown out or burned those tickets by now. Some might even have used them as rolling paper to smoke joints. Who knows, really.
The other big theme of this Super Bowl was the number of long-shot odds that hit. Final reports are still being tallied on who exactly scored on these longshots, but don't be surprised if reports come out of people cashing in on a Seahawks safety to open the scoring at 50/1 odds. After all, it was only two years ago when the exact same thing happened, prompting books to drop the odds to 8/1 last year. Guess they should have stuck at that number, huh?
Another long shot winner was Super Bowl XLVIII MVP Malcolm Smith, who became the first defensive Super Bowl MVP winner since Super Bowl XXXVII when Tampa Bay Buccaneers safety Dexter Jackson took home MVP honors. Smith's MVP performance was so unlikely that he wasn't even individually listed among the top choices. Yep, "The Field" took MVP honors this year at 20/1 odds, putting to waste all those Russell Wilson and Marshawn Lynch MVP tickets because some genius (whoops…) told them to. Hey, at least I got the weather prop right!
Speaking of geniuses, if somebody bet on Seattle to win by 34 to 38 points at 100/1 odds, you sir/madam, should have a statue built in your honor. That's some incredible foresight there that'll be even more impressive if he/she also bet on Denver to score a measly 8 points at 225/1. That person, if there really is one, should be given free Starbucks for life.
As far as how much handle was bet on in this game, the official numbers aren't out yet, but early whispers seem to indicate that Super Bowl XLVIII broke the $98.9 million handle set last year. No word yet on whether it eclipsed the $100 million threshold, but we won't be surprised if it did. That should be the least surprising thing to happen today after the public beatdown we all just witnessed.