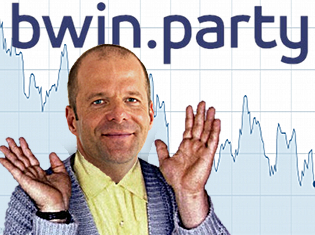 Gibraltar-licensed online gambling operator Bwin.party digital entertainment wants to award its top execs bonuses of up to 550% of their annual salary. Bwin.party has called an extraordinary general meeting in Gibraltar on Feb. 24 at which the board will seek approval on the plan, which they insist is necessary because the previous bonus incentive plans – which were tied to the company's share price hitting certain targets – aren't likely to be met anytime soon, if ever.
Bwin.party began life on March 31, 2011 with the merger of Austrian sports betting outfit Bwin and UK-listed gambling operator PartyGaming. At the time, Bwin.party's top execs were promised certain bonuses if the company stock could hold a price above 202p, which seemed a pretty safe bet since the stock closed out its first day's trading at 205p.
But within a week of Bwin.party's IPO, regulatory news from its biggest market Germany sent shares into a spiral from which they've never recovered. Bwin.party's 2013 peak price was no higher than 155p and despite the fact that the company is dominating the recently launched online gambling operations in New Jersey, the stock closed out last week's trading at 114.5p. It's worth noting that a year before Bwin and PartyGaming were officially joined at the hip, Calvin Ayre warned shareholders that the merger would be detrimental to their interests.
When Bwin.party was born, its execs were enrolled in two bonus schemes. The Bonus Banking Plan (BBP) was tied to earnings performance and personal objectives, while the Value Creation Plan (VCP) was tied to Bwin.party's stock price. On Wednesday, shareholders received a notice (viewable here) indicating that the VCP "has not generated any value" for its top execs because "for a number of reasons, the targeted level of shareholder returns were not met."
With the old bonus benchmarks now akin to launching manned space flights to Alpha Centauri, Bwin.party is proposing a new scheme that more accurately reflects the company's lowered expectations. Under this plan, CEO Norbert Teufelberger would pick up a maximum bonus of 550% of his annual base salary of £500k, while chief financial officer Martin Weigold would receive 435% of his £446k annual pay packet.
I'M GOOD ENOUGH, SMART ENOUGH, AND DOGGONE IT… PEOPLE PAY ME
Bwin.party says the paydays are necessary because the US market is beginning to open up, and the hordes of US gaming companies looking to move online lack senior management with online knowhow. Bwin.party also indirectly accuses Gibraltar of being a lousy place to work by suggesting US-based firms offer "additional opportunities" not available on the Rock. The potential for US companies to poach senior execs from experienced European companies represents "the single biggest threat to Bwin.party's ability to retain its senior management."
Bwin.party also suggests its top execs deserve danger pay due to "aggressive enforcement of national laws against senior executives within the industry," which presents "significant personal risks" for senior gaming execs. This is a thinly veiled allusion to Teufelberger's 2012 arrest in Belgium, which finally prompted Bwin.party to give up its status as the country's "most aggressive illegal operator" and to officially file for a Belgian gaming license. Teufelberger was also the subject of a 2013 French court action stemming from his 2006 arrest in La Turbie on similar grounds.
Bwin.party also suggests the entire industry is in a state of transformation that has rendered those old-fashioned 2011 metrics useless for measuring forward progress. Bwin.party wants to avoid "an overly rigid incentive structure" in favor of something that allows it to reward its top execs for displaying the indomitable spirit to punch their timecards with reasonable regularity.
SO HOW DOES IT WORK?
Under the new scheme, which was cooked up in conjunction with PricewaterhouseCoopers, the old BBP would be renewed, but its maximum payout would be reduced from 300% of annual salary to 250% (125% of salary immediate cash bonus and 125% of salary deferred in shares). Under the new replacement for the VCP, Teufelberger would receive a maximum of 300% of salary in shares subject to a three-year vesting period during which he'd have to remain in employment and which cannot be sold for five years.
The scale of Teufelberger's BBP bonus would be conditional on how close the company's earnings came to predetermined targets and the attainment of certain personal objectives. The replacement VCP plan would be tied to how close he came to meeting certain annual financial, strategic and transformational key performance indicators (KPIs).
If approved by shareholders, the new plan would reward Teufelberger this year based on transformational KPIs established last year by the remuneration committee, such as "launch new poker offering and reposition poker to be number 1 rival to PokerStars." The metrics for measuring whether or not this goal was achieved include "launch software and follow with marketing campaign" and "stop the revenue decline in poker (measuring quarter after launch with quarter prior to launch)." The revamped PartyPoker launched in September, which was followed by an ad blitz, leading to a pre-Christmas trading update that claimed the poker vertical's revenues had "grown", so it appears Teufelberger's getting paid for ticking off those three boxes, at least.
In order for Bwin.party's new bonus scheme to take effect, it will need the support of over 75% of votes cast by shareholders at the EGM. The board of directors – who hold a combined 3.25% of Bwin.party's outstanding shares – said it has already discussed the matter with over 60% of shareholders and "was pleased that the majority of shareholders consulted … were supportive of the plan." That's a sad commentary on the reduced expectations of shareholders regarding management living up to its promises. We can't wait to see if one of 2014's KPIs is "convincing shareholders that 75p was our target share price all along."