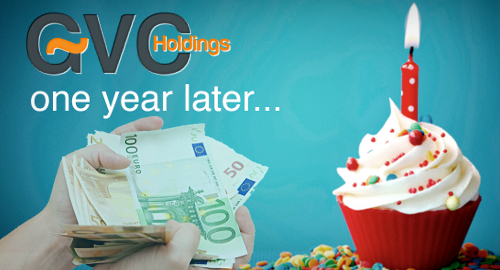 UK-listed online gambling operator GVC Holdings enjoyed "the most significant year in the group's history" in 2016 after acquiring and reforming Bwin.party's betting and gaming brands.
GVC issued its annual results on Thursday, which showed pro forma revenue – backdating the company's February 2016 absorption of Bwin.party to January 1 – rising 9% to €894.6m, while earnings were up 26% to €205.7m and adjusted pre-tax profit more than doubled to €93.8m. (In reality, acquisition-related costs resulted in a net loss of €138.6m for the year.)
GVC's sports labels – including Bwin, Sportingbet, Betboo and Gamebookers – reported total sports betting handle up 4% to €4.55b while combined sports and gaming revenue at these labels gained 14% to €654m.
The sports labels' gains are all the more impressive considering their marketing spending was only around 17% of revenue, well below industry average. With a better sense of its return on investment for its new brands, GVC says it plans to increase sports marketing to 23-25% in 2017.
GVC credits improvements in the Bwin brand's risk management leading to a "significant reduction in low margin turnover." Or, as GVC CEO Kenny Alexander put it, Bwin had some "customers who were beating us and long term we could not beat them. We closed accounts or limited how much they could bet on."
GVC's games labels – including PartyPoker, PartyCasino, Foxy Bingo, Gioco Digitale and CasinoClub – saw pro forma revenue fall 4% to €203.5m, although the figure was flat in constant currency terms, and GVC says the gaming numbers improved in the second half of the year.
Alexander noted acidly that the PartyPoker and PartyCasino "were some of the most challenged parts of Bwin.party," with revenue falling 60% between 2010 and 2015. Alexander was therefore pleased to announce that PartyPoker enjoyed 14% revenue growth in 2016 while PartyCasino enjoyed "significant acceleration" in new player acquisition and increased revenue per customer following the brand's H2 relaunch.
Similarly, Foxy has had "a challenging few years" but GVC brought in a new head of bingo in H2 and this month launched a new marketing campaign for both Foxy Bingo and Casino starring actress Heather Graham.
CasinoClub delivered a "positive top line performance" in its 15th year of operations, while Gioco Digitale's revenue "grew strongly, particularly in casino," following some post-acquisition restructuring and improvments in marketing and product.
Looking forward, GVC says 2017 is off to a roaring start, with daily revenue up 15% over the same period last year, driven by 18% gains at its sports labels while the games labels are up 6%.
As for potential activity on the mergers and acquisition front, Alexander appears to have broadened his list of potential dance partners. While the company has previously expressed interest in online-only operators, more recent rumors have GVC sniffing out potential tie-ups with Ladbrokes Coral and William Hill.
Alexander said Thursday that he continued to prefer coupling with another online-only business, "but if we have to do a deal that involves taking on retail, which could be in the UK or Italy, for example, then I wouldn't hesitate to do it."