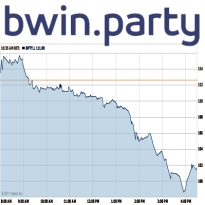 Bwin.Party Digital Entertainment (Pwin) stock hit another record low on Wednesday, dropping almost 10% to close at 101.7p. Now down by more than a third in just the past two weeks, the shares briefly fell through the psychological 100p barrier, dipping as low as 98.6p before finishing the day back in triple-digit territory (just). The shares are now worth less than half their value on April 1, the date of the celebrated merger of Bwin and PartyGaming.
Few online gambling stocks have been spared the effects of the recent worldwide market jitters, but Bwin.party seems to be bearing up worse than most. Even Betfair, which hit a record low of its own just last Friday, has posted modest gains this week. The European Commission's expected condemnation of Germany's punitive draft gaming law was supposed to give Pwin a nudge up the charts, but what upward momentum there was was modest, and didn't last.
Beyond dealing with shareholder rage, what are the internal effects of such downturns on a public company? For one thing, it can give key executives a case of the wandering eye. If a significant portion of an exec's compensation comes in the form of stock options, the exec has an incentive to stick around a while to realize their true benefits. If the stock is currently trading below the value when the options were issued, then the options have no value, unless the exec is willing to hang around until they're (hopefully) back in the black at some point. But when a stock is off as far as Pwin's, it could take some time for that ground to be regained, which allows an exec to consider other, more lucrative possibilities elsewhere.
Depleted share value also carries with it the potential for involuntary changes in the upper ranks. Much like an underperforming football team firing its manager, corner office occupants are prone to having their executive washroom keys revoked rather unceremoniously when their company hits a sustained rough patch. The reappointment of Pwin's top execs, including co-CEO Norbert Teufelberger, was given a near unanimous thumbs-up at Pwin's last AGM in June, but will shareholders still feel the love if their portfolios continue to slide?
Comments