One is the richest winner in tournament poker history, the other is nicknamed 'Timex'. Both are on the opposite sides of some serious beef… and it's about money.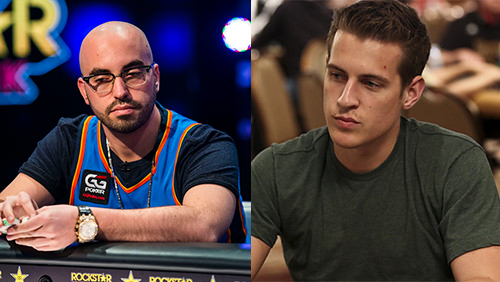 While Kenney currently sits at the top of the all-time money list with $55.5 million in results, McDonald is 48th on that list with $13 million in live tournament winnings, but over the weekend, the talk was not of their poker winnings… but certain other monies that either were or weren't forthcoming.
The conversation didn't start with Bryn Kenney or Mike 'Timex' McDonald involved. Daniel Negreanu kicked off the conversation on Twitter by asking what people thought that a tip of $80 on top of the $20 haircut (rounding up to $100 or squaring off, we're as yet unsure).
While anyone other than hairdressers may have expected the subject to 'fade' away, instead there was a definite cut-off point for tips, and it was lower than 400% as Timex called it. Cue Bryn Kenney, all too happy to wade in and discuss exactly why McDonald might not 'see the value' in such a generous gratuity.
There are so many stories of ur cheapness, tbh the "I don't see the value in it is enough" and ya there are so many stories of ur cheapness I just wanted to say the most pathetic by far

— Bryn Kenney (@BrynKenney) October 11, 2019
Accepting the argument that it's tough to know what you spent on drinks if you wake up on the other side of a blackout, it's pretty unclear who's going to come out of the conversation looking in any way positive.
Perhaps Sam Greenwood called it best when he simply asked them to untag him from the conversation, but it does raise the point about generosity and poker players.
What's right for poker players to tip, and how generous should they be? If anyone is having a haircut, surely it's their right to tip as much as they like, and to hell with anyone saying they shouldn't do so. Should poker players be judged on how much they give to charity rather than to those around them, or people providing services to them? Who decides?
Ultimately, each person decides how generous they are in life, and poker players are no different. Whether Bryn Kenney flies his friends and family first class around the world and Timex doesn't tip after a five course meal or vice versa is down to those guys.
As usual, Daniel Negreanu has proved what many people doubted might be the case some years ago – that he's still more than capable of stoking argument and discussion with questions from the very top of the poker tree right down to what people tip after getting their haircut. With the stresses poker players endure, maybe anyone who still has any hair on their head at all past 40 should be celebrating.
Just don't expect Bryn Kenney or Mike McDonald to be inviting each other to that party any time soon.
It's just a tip.