The World Poker Tour continues to be the Daddy of North American live tournament poker after pulling in a record 1,001 entrants for the $10,000 Five Diamond World Poker Classic at The Bellagio, and Manig Loeser and John Hennigan pick up side event wins.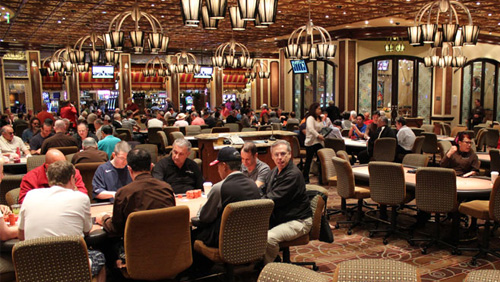 Not that long ago, if you thought you were pregnant, you went to see your local quack, and he would take a urine sample, and send you home to await further news.
While you were shopping, chopping or mopping, the quack would inject your urine into the ovaries of a rabbit. Human chorionic gonadotropin (hCG) is a hormone that exists in the urine of pregnant women that causes deformed rabbit ovaries.
All you had to do was cut open the rabbit to check for a deformity, and hey presto, you were Preggers Plays Pops.
All the rabbits died.
Fortunately, old tried and tested practices like this are defunct because something better came along.
We cannot say the same about the World Poker Tour (WPT).
Ever since Steve Lipscomb gave birth to the WPT it has been THE tried and tested live poker experience in North America (we are unable to track Lipscomb down to learn how many rabbits died in the process). The passing of time hasn't weakened the product. A tweak here; a tweak there, but ostensibly, like the doctors that used to cut open the rabbits, it works.
The $10,000 WPT Five Diamond World Poker Classic at The Bellagio has just attracted a record 1,001-entrants.
1,001 entries @WPT @BellagioPoker, which crushes a record for a $10K buy-in!!!!

Prize pool being compiled and will be released shortly but two new millionaires if you aren't already one, either way it's an amazing number. #WPT5Diamond

— Matt Savage (@SavagePoker) December 13, 2018
And people believe that poker is as dead as those rabbits!
178 players remain at the end of Day 3.
Here are the top six.
1. Calvin Anderson – 789,000
2. Joe McKeehen – 784,000
3. Mike Cordell – 666,000
4. Dan Shak – 628,000
5. Farid Jattin – 570,000
6. Darren Elias – 569,000
And those payouts.
Payouts
1. $1,631,468
2. $1,087,603
3. $802,973
4. $599,147
5. $451,880
6. $344,529
WPT Five Diamond Side Event News: Wins For Loeser and Henning 
The last time I bothered you about this event, I told you how Joshua Ladines and Sam Soverel had taken down the $10,000 Pot-Limit Omaha games for $128,090 and $116,000 respectively.
There are two more events to catch up on. 
Manig Loeser Wins the $25,000 No-Limit Hold'em. 
The $25,000 No-Limit Hold'em High Roller appealed to 42-entrants, and Manig Loeser beat Elio Fox, heads-up, to bag his first win of the year, a week after finishing runner-up to Ian Hunter in the $£5,000 High Roller at 888Live London.
And Loeser has been knocking at the door, with 13 final tables in some of the biggest games in the world. It's his fifth all-time win, and the $321,300 first prize takes his all-time earnings to the $8.5m mark.
Of the six people who eked out a profit in this one, five of them are experiencing the best poker year of their lives.
Fox has earned a career-high $4.2m, winning five titles, including a World Series of Poker (WSOP) bracelet, numerous victories at the ARIA and a $50,000 win during the Seminole Hard Rock Poker Open for $500,000.
Jake Schindler is also enjoying his most fruitful year with $7.7m in 2018 earnings – his highlights being a victory in the $25,000 High Roller at the Seminole Hard Rock Poker Open for $800,000, and a win in the €100,000 PokerStars' European Poker Tour (EPT) Super High Roller in Barcelona for $2.1m.
Dan Smith's $6.7m is a personal best, and that's excellent news because you know a significant portion of that volume is heading into the coffers of effective charities.
Finally, Nick Petrangelo is also experiencing his best-ever year with $6.6m in live tournament earnings, including winning the $100,000 Super High Roller at the WSOP for $2.9m.
Cary Katz needs to pull his socks up.
$5.1m?
Seriously. 
ITM Results
1. Manig Loeser – $321,300
2. Elio Fox – $308,700
3. Jake Schindler – $168,000
4. Dan Smith – $105,000
5. Cary Katz – $84,000
6. Nick Petrangelo – $63,000
John Hennigan Wins $10,000 Mixed Games High Roller. 
John Hennigan took down the $10,000 Mixed Games High Roller.
24-entrants decided to skip the barber's chair to play a bit of poker, and Hennigan battered them all to win his second title of the year, after claiming the 10,000 H.O.R.S.E bracelet (number #5) at the WSOP where incidentally Randy Ohel finished fifth.
Hennigan beat Ben Yu, heads-up, for the title, and that's no mean feat given that Yu is experiencing his personal heater of a lifetime winning $3.6m this year, including the $50,000 No-Limit Hold'em High Roller at the WSOP, his third sliver of gold.
Here are the ITM results. 
ITM Results
1. John Hennigan – $110,000
2. Ben Yu – $67,200
3. Randy Ohel – $38,400
4. John Racener – $24,000