Jake Schindler has beaten Ryan Fee in a controversial Seminole Hard Rock Poker Open $100,000 Super High Roller, and Dan Colman is searching for another seven figure score as he headlines the $10m Guaranteed Main Event Final Table.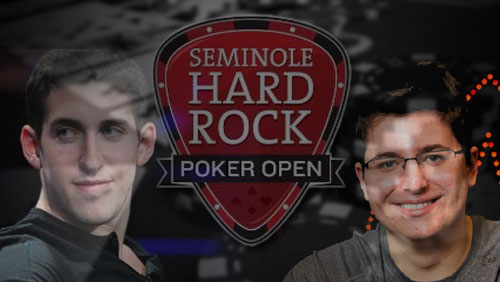 Is it two spots, or three spots?
A simple question but one that created a furor of controversy, after the Seminole Hard Rock Poker Open (SHRPO) made a complete balls up of the officiating at the $100,000 Super High Roller (SHR).
With the Day 1 action well underway it started to become obvious to the players that there was going to be very little interest in the $100,000 SHR. With this in mind, Scott Seiver—who had already slightly more than doubled up—asked the tournament officials how many places were going to be paid?
Seiver received the response that two spots would be paid out, if the field was below 11-players, and that would rise to three should more than 11-players sign on the dotted line.
When all was said and done only nine players entered the event and Day 1 drew to a close with just five players remaining and Seiver holding the chip lead. During the bagging and tagging an official told the players that they had made a mistake by telling them only two places would be paid out, and they were changing it to three.
Seiver—who held the chip lead—was insistent that the tournament officials could not change their mind on this because the initial decision has helped create the dynamic at the table.
After a mini-conference, the officials decided to stick with the initial plan.
All good then?
Nope.
Ryan Fee and Jason Mo went to twitter to air their anger at Seiver for having the audacity to change the tournament official's minds only because Seiver had the chip advantage. Seiver retaliated by stating that rules are rules and he was only trying to preserve the integrity of the tournament.
After a lot of high profile coverage across a wide variety of poker forums, magazines and articles, the Seminoles (who were already out of pocket to the tune of $2.5 million) kindly agreed to post a $50,000 third place prize, outside of the initial prize pool.
Seiver would go on to finish third, and collect that consolation prize, and Jake Schindler would beat Ryan Fees in heads-up action to take the title and first prize of $570,375.
The victory takes Schindler to over $3.4 million in live tournament earnings, $3 million of which have come this year. Ryan Fee has also had a splendid 2014 with four six-figure scores, and he now has over $1 million in live tournament earnings to add to his online haul.
Jason Mo bubbled the event and one doubts we will see him returning to the SHRPO anytime soon.
Final Table Payouts
1st. Jake Schindler – $570,375
2nd. Ryan Fee – $307,125
3rd. Scott Seiver – $50,000
Dan Colman Headlines the $10m Guaranteed Main Event
What is Dan Colman eating for breakfast?
The BIG ONE for ONE DROP winner has once again proved he is one of the most talented poker players in the world, when he navigated his way through a field of 1,499 players to make the final table of the SHRPO $10m Guaranteed Main Event.
Colman will start the final table, second in chips, trailing IveyPoker Pro, Mike Leah, by a smidgen over 5 million in chips. If Colman can manage to finish in the top two spots, it will be his fourth seven-figure score of the year and his live-tournament earnings will jump to over $21 million, with most of that coming this year.
Colman won't be having it his own way though.
Leah is making his sixth final table of the year and he has closed off four of those finals, meaning whatever happens from this point on, 2014 will be the most successful period of Leah's long and illustrious career.
Joining Leah and Colman on the six-handed final table are the 2010 Nov Niner John Dolan, the EPT regular Martin Hanowski, the WPT Champions Club member, Shawn Cunix, and the 2013 Arizona State Poker Championship winner Joe Kuether.
Final Table Chip Counts
Mike Leah – 15,455,000
Dan Colman – 10,230,000
Joe Kuether – 7,090,000
Martin Hanowski – 5,210,000
Shawn Cunix – 4,870,000
John Dolan – 2,045,000
Prize Pool Payouts
1st. $1,446,710
2nd. $1,047,638
3rd. $748,313
4th. $548,763
5th. $424,044
6th. $324,269
Comments